Working process of YT-200 Automatic round bottle labeling machine
2023.04.03
YT-200 Automatic round bottle labeling machine belongs to the round bottle labeling machine, which is specially used for labeling round bottles. It can stick single labels and double labels, and the distance between the front and back double labels can be adjusted flexibly; The positioning detection device can realize labeling at the designated position on the circumferential surface.
Scope application of YT-200 Automatic round bottle labeling machine
Applicable labels: self-adhesive labels/self-adhesive films, etc.
Applicable products: round bottles with a diameter between 40mm and 90mm.
Application industry: Widely used in medicine, food, toys, daily chemicals, and other industries.
Working process of YT-200 Automatic round bottle labeling machine
The core working principle: Put the product on the conveyor belt and enter the bottle separating mechanism. After the bottle-separating mechanism separates the product, the sensor detects the passing of the product and sends a signal back to the labeling control system. The control system controls the corresponding motor to send out the label and paste it at the appropriate position. Attach it to the position where the product is to be labeled, and cover the label at the same time, and the action of attaching a label is completed.
Operation process: put the product conveyor belt (which can be connected to the assembly line)—>product conveying—>product separation—>product inspection—>product positioning—>labeling and relabeling—>collect the labeled products.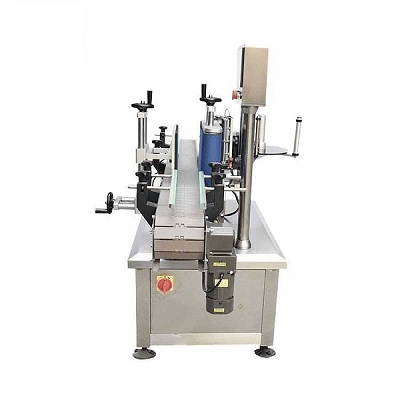 Features of YT-200 Automatic round bottle labeling machine
YT-200 Automatic round bottle labeling machine is easy to adjust, equipped with front and rear, left and right, up and down directions, plane inclination, and vertical inclination adjustment seats, there is no dead angle for switching between different bottle shapes, and the adjustment is simple and fast;
Automatic bottle separation, adopting a star wheel bottle separation mechanism, effectively eliminates the unsmooth bottle separation caused by the error of the bottle itself, and improves stability;
YT-200 Automatic round bottle labeling machine has an automatic shutdown function, production counting function, power saving function (when there is no production within the set time, the equipment will automatically turn to power saving standby state), production number setting prompt function, parameter setting protection function (Parameter setting is divided into authority management), which is convenient for production management.
Optional function of YT-200 Automatic round bottle labeling machine
1. Hot coding/jetting code function;
2. Automatic feeding function (vertical bottle feeding machine);
3. Automatic receiving function (combined with product considerations);
4. Increase the labeling device;
5. Unlabeled bottle rejection function (according to customer requirements).