Description
YT-200 automatic round bottle labeling machine adopts advanced technology and can automatically complete the labeling task of round bottles, greatly improving production efficiency and quality. It is suitable for self-adhesive labels, self-adhesive films, electronic supervision codes, barcodes, etc., and is suitable for labeling round bottles of different types and sizes such as plastic bottles, glass bottles, metal bottles, etc.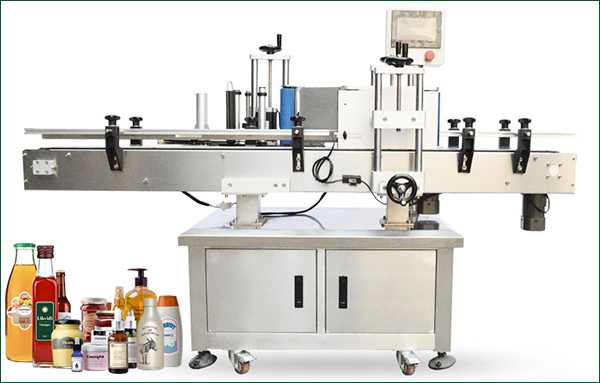 Automatic Round Bottle Labeling Machine Advantages
1. Accurate labeling;
2. High speed and efficiency;
3. Automatic extraction material;
4. YT-200 Automatic round bottle labeling machine easy to operate and convenient;
YT-200 Automatic Jar Labeling Machine Parameter
| | |
| --- | --- |
| Working Method: | Full Automatic |
| Labeling Speed: | 120PCS/MIN |
| Attached object size: | 30-80mm(Can be customized according to needs) |
| Max label Width: | 100mm(Can be customized according to needs) |
| Label roll inner diameter | 76mm |
| Label roll outer diameter | 350mm(Can be customized according to needs) |
| Voltage | 220V/50HZ  1000W |
| Labeling Accuracy | ±0.1mm |
| Machine Size | 2000*800*1650mm |
| Net Weight | 300kg |
Here is the auto round bottle labeling machine youtube video working process in our factory for your reference!!
Auto Round Bottle LabelerMachine Features
1. Circular positioning
Circular positioning, label covering mode, sponge roller sticker;
2. Accurate measurement
Using imported electric eyes, the labeling accuracy is high and the error is small;
3.Touch panel
Switch between Chinese and English, large screen display, easy to operate and clear at a glance;
4. Adjust the structure
Made of stainless steel and high-grade aluminum alloy, which improves stability and is sturdy and durable;
YT-200 automatic round bottle labeling machine features high speed, high precision and high stability, and can meet different production needs. The equipment also has automatic detection and alarm functions, which can detect and handle abnormal situations in time to ensure the safety and stability of production.
In short, the YT-200 automatic round bottle labeling machine is an excellent labeling equipment that can provide enterprises with efficient and reliable production solutions.