Technical advantages of KZ-900 Semi-automatic low table baler
2023.02.16
KZ-900 Semi-automatic low table baler, packing speed is fast, each packing only takes 1.5 minutes; instant heating can make the iron work within 5 seconds, and enter the packing state. The machine is equipped with an automatic shutdown system. If there is no operation within 60 seconds, the motor will automatically stop and the machine will enter the standby state. At this time, press the green button or insert the belt to pack, and the motor will restart, and the machine can be operated to save power. For safety For the sake of safety, the operator should cut off the power supply when leaving the site.
Principle and features of KZ-900 Semi-automatic low table baler
KZ-900 Semi-automatic low table baler is re-designed and manufactured on the basis of foreign prototypes. It can be used in a wide range of packaging, regardless of the size of the package, and it can be packaged without adjusting the machine. The baler is a mechanical structure, some imported parts are used, the rear blade is stable and reliable, and it is easy to adjust. The table of the baler is low, which is suitable for packing heavy items.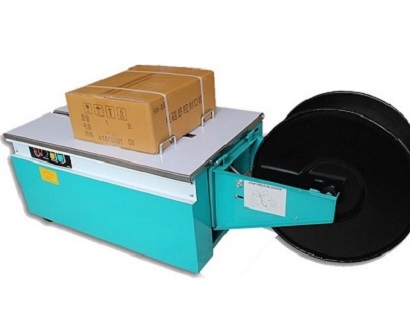 Application of KZ-900 Semi-automatic low table baler
KZ-900 Semi-automatic low table baler is widely used in food, medicine, daily chemical, hardware, chemical, clothing, postal, airport, and other industries. Suitable for carton packaging, paper packaging, parcel letter packaging, medicine box packaging, light industry product packaging, hardware tool packaging, ceramic product packaging, auto parts packaging, daily chemical products packaging, cultural and sports supplies packaging, component packaging, aluminum profile packaging, etc. Packing of goods of various sizes.
Technical advantages of KZ-900 Semi-automatic low table baler
1. The height-adjustable type can be changed, from the high platform type to the low platform type, you only need to move the belt reel from the belly of the machine to the right side of the chassis, and then replace the four short leg tubes and brake levers. On the contrary, the low platform type becomes a high platform type.
2. The height of the KZ-900 Semi-automatic low table baler can be adjusted according to the operator's height and work requirements.
3. When the working site is uneven, the length of the four leg tubes can be adjusted to keep the machine level.