Description
KZ-900 Semi-automatic polypropylene strapping machine is equipped with a high-speed motor, pure copper coil, strong power, high-quality movement, stable performance, and silent design, which makes the operating sound of this packer very small and reduces noise. Packing large objects with high heat melting temperature, firm packing, easy operation panel, and a universal wheel with brake. It is widely used in the packaging of food, medicine, cosmetics, books, electrical appliances, toys, and other industries.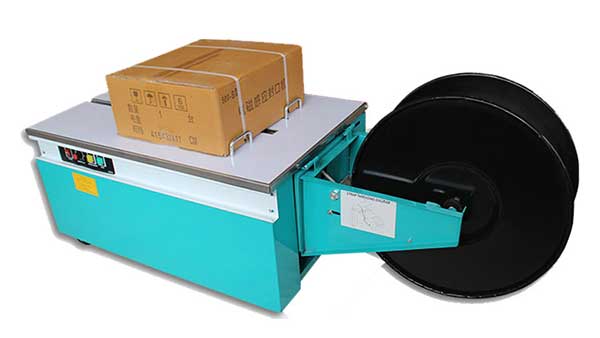 Semi Automatic Strapping Machine Advantages
High strength alloy;
High-end hardware;
Strong binding force;
One -button tightening;
The melting point is firm;
A wide range of packages;
KZ-900 Semi Automatic Strapping Machine Technical Parameters
| | |
| --- | --- |
| Model: | KZ-900D |
| Working Method: | Semi-Automatic |
| Packing belt thickness: | 0.7-0.9mm |
| Packing belt width: | 10-14mm |
| Packing speed: | 1.5m/s |
| Smallest package: | 60*60mm |
| Largest package: | Unlimited |
| Voltage Power | 220V/50HZ  300W |
| Dimension | 1320*570*450mm |
| Gross Weight | 80kg |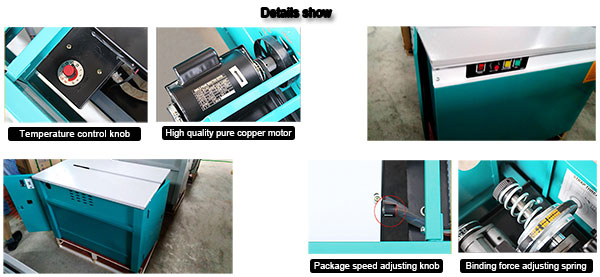 Polypropylene Strapping Machine Features
Dual motor power, strong stability;
The welding is firm, and it is not easy to break when transported by force;
Start the heating system for 5 seconds, continuous operation, high efficiency;
The thickened panel of the fuselage is resistant to pressure and wear, and has a long service life;
Here is the polypropylene strapping machine youtube video working process in our factory for your reference!!
Semi Automatic Strapping Machine Manual
Step1
Put the packaged product on the machine, and let the product lean against the positioning handle.
Step2
Wrap the strap vertically around the item to be packed, and insert one end of the strap into the take-up opening.
Step3
The packing machine will automatically tighten the packing tape according to the set strength and cut it off.
If you also interested the semi automatic strapping machine to help your business, welcome to contact us freely to get free quote online!!