Structure and performance of semi-automatic drum press capping machine
2023.04.12
CDYG-B1 Semi-automatic drum press capping machine The upper part of the capping machine adopts the non-powered roller capping lower belt conveying design, which is easy to operate, easy to maintain, and reliable in operation. It is suitable for capping large drums such as lubricating oil barrels and paint barrels.
Its working principle is through belt rotation, and the barrel body is put on the flat cover and then goes down through the unpowered roller to achieve the purpose of capping. Features of belt conveying: The belt conveyor conveys smoothly, and there is no relative movement between the material and the conveyor belt, which can avoid damage to the conveyed objects. The noise is small, suitable for occasions where the working environment requires a relatively quiet environment.
CDYG-B1 Semi-automatic drum press capping machine is a piece of ideal equipment for automatic capping processes in pharmaceutical, food, chemical, daily chemical, and other industries. This machine is widely used for the gland sealing of various large, medium, and small barrels, mainly suitable for the gland sealing of lubricating oil barrels, antifreeze, daily chemical products, etc.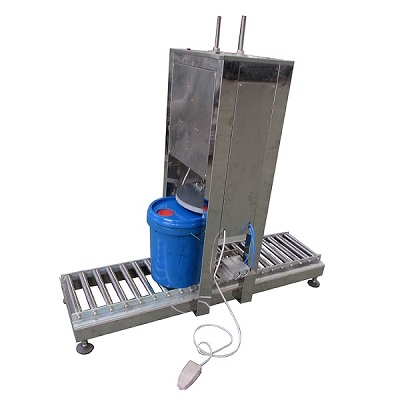 Structure and performance of semi-automatic drum press capping machine
1. The frame is made of 201 stainless steel, which is beautiful and easy to clean.
2. The cover and pressure plate are made of high-density PVC, which is wear-resistant and compressive and has a long service life.
3. Gland cylinder: domestic
4. Barrel limit cylinder: domestic
5. Trachea: high-pressure resistant trachea
6. Roller: Stainless steel roller made in Shanghai, beautiful and durable.
Features of Semi-automatic drum press capping machine
1. The quality of the screw cap is stable and reliable, and it is convenient to replace and select the cap head, which is suitable for the production of many varieties and small batches;
2. Automatic sensing container bottle capping, easy to operate;
3. Automatically cut off the gas supply in a non-working state to effectively prevent misoperation;
4. The torque protection function can maintain a constant torque to screw the cap and protect the bottle cap from being damaged by the torque;
5. The exquisite design of the function of preventing secondary capping can prevent the same bottle cap from being capped multiple times and effectively protect the integrity of the bottle cap. Various capping fixtures (optional) are suitable for refitting bottle caps of various specifications.