Rotary Tablet Press Machine Working Principle
2023.10.04
The rotary tablet press machine working principle is to convert powder or granular materials into solid tablets through a series of process steps. The working principle of this machine is based on the action of pressure and friction.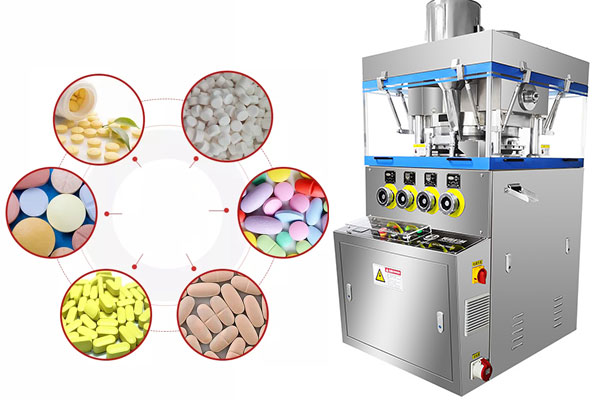 First, the raw materials are placed on the feed tray and fed into the tableting area of the rotary tablet press through the feeding system. Within this area, there are two rotating worktables housing a series of moulds. When the worktable rotates, the mold pushes the filled raw material into the tableting cavity below.
Next, the upper and lower worktables will compress the raw materials into solid tablets through a certain amount of pressure. This pressure is applied to the workbench via a pressure roller or pressure bar. At the same time, friction will also help the raw materials form uniform tablets in the mold.
Once tableting is complete, the table will continue to rotate, pushing the finished tablets out of the mold and into the discharging system. In the discharging system, tablets undergo a series of vibration, screening and cooling steps to ensure the quality of the final product.
Here is the pill press machine youtube video working process in our factory for your reference!!
The rotary tablet press machine working principle is simple and efficient. It can produce high-quality tablets and is widely used in pharmaceutical, chemical and food industries. By understanding its working principle, we can better understand the operation and maintenance of this machine and improve production efficiency and product quality.