Description
The automatic rotary tablet press machine is a multi-punch single-press automatic rotary tablet press machine, which can press various granular, crystalline, or fluid powders into various ordinary round tablets and special-shaped tablets. It is mainly used for the production of tablets in the pharmaceutical industry, and is also suitable for chemical/food, electronics, plastics, and other industrial sectors, in line with GMP requirements. Some powders have poor fluidity and cannot be directly compressed into tablets. They need to be added with auxiliary materials and binders or made into small particles before they can be compressed into tablets.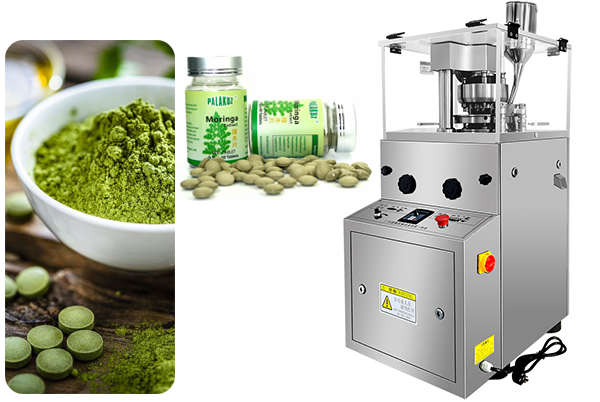 1. The open outlet is made of high-quality stainless steel, and the surface is smoothed without damaging the tablet;
2. The operation interface is simple and clear, and the current speed and the working conditions of each station can be observed;
3. The transparent visible pressure window can see the current pressure, which solves the trouble of needing to open the cabinet door to see the pressure in the past;
4. The use of transparent dust-proof hoops can see the running conditions of the track and prevent dust from entering the track to make the pill production environment more hygienic;
5. Using transparent plexiglass, you can observe the running status of the machine and isolate the dust and powder from the outside world, making the environment more hygienic and in line with GMP standards;
6. The pill press machine can be equipped with a vacuum and feeding machine to avoid dust spilling, and the environment is cleaner and tidy, especially for corrosive chemical raw materials, reducing manual contact;
Here is the pill press machine YouTube video working process in our factory for your reference!!
| | | | |
| --- | --- | --- | --- |
| Model | ZP-5B | ZP-7B | ZP-9B |
| Press mold (set) | 5 | 7 | 9 |
| Press (KN) | 60 | 60 | 60 |
| Diameter(mm) | 5-20 | 5-20 | 5-20 |
| Deep(mm) | 0-15 | 0-15 | 0-15 |
| Thickness(mm) | 0-6 | 0-6 | 0-6 |
| Speed(r/min) | 30 | 30 | 30 |
| Capacity(pcs/h) | 9000 | 12600 | 16200 |
| Power (KW) | 2.2 | 2.2 | 2.2 |
| Dimension(mm) | 630*510*1050 | 630*510*1050 | 630*510*1050 |
| Weight(kgs) | 220 | 220 | 220 |
1. Support customization, the required pattern, pressure, turntable, mold material, and feeding method can be customized according to customer requirements;
2. The service life is longer, the body is made of 304 stainless steel, in line with GMP standards, and the turntable. It is specially treated with special technology, which is more corrosion-resistant and not easy to rust;
3. Applicable to many industries. This tablet press machine is used to press powder and granular materials into tablets, and it is mostly suitable for the chemical industry, pharmaceutical industry, daily chemical industry, and food industry;
4. Advantages in production capacity, the tablet press machine operates stably has considerable production capacity, and can run continuously for 20 days after customer testing hours the running state is very stable, and there is almost no deviation in the tablet weight. Production at a constant speed capable of about 35,000 pieces, the fastest speed can reach 450 million pieces;
In summary, automatic rotary tablet presses machine play an important role in the pharmaceutical industry. Its high degree of automation, precise compression control, and efficient production capabilities make it ideal for tablet production. With the continuous development of technology, it is believed that automatic rotary tablet press machines will continue to play a greater role in the future, bringing more convenience and development opportunities to the pharmaceutical industry.