Optional items of Full automatic 200KG weighting filling machine
2023.03.31
A full automatic 200KG weighting filling machine is suitable for products with low to high viscosity, and the applicable filling capacity is from 50L to 1000L. The accuracy reaches 2/1000 (depending on the specifications of the iron drum, product properties, and feed pressure); the whole machine is airtight and explosion-proof, with functions such as the automatic opening of the vat, automatic positioning, automatic filling, automatic capping, automatic output, etc., Nitrogen filling device and exhaust device are available.
Full automatic 200KG weighting filling machine Each filling unit is composed of a high-precision weighing sensor, a control instrument, and a filling speed control valve, which can realize fast and slow filling. For filling machines 10kg, 20kg, and 25kg barrels, pots of chemical raw materials, edible oil, engine oil, lubricating oil, plant business liquid, cleaning, activator and other liquids, fluid products, automobile engine oil, treatment liquid, microbial agents wait. It can automatically complete a series of operations such as counting into bottles, filling by weight, and conveying out bottles. It can be used with automatic capping machines, aluminum foil sealing machines, and other equipment according to needs.
The control system of the Full automatic 200KG weighting filling machine
Siemens PLC/Omron control system;
With on/off switch, emergency stop, etc. buttons
Filling out of tolerance or no material automatic alarm system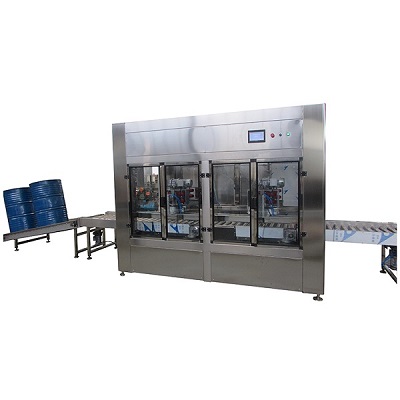 Optional items of Full automatic 200KG weighting filling machine
PLC and DCS communication and control synchronization;
Front and rear explosion-proof power transmission lines;
Nitrogen filling device.
Performance of Full automatic 200KG weighting filling machine
SS304 stainless steel metal hose adapter, easy to operate and maintain
Automatic surface/subsurface filling, automatic filling head into the barrel with reset function
Full automatic 200KG weighting filling machine adopts Toledo's load cell and instrument system;
Adopt a heavy-duty weighing platform with sensors and an overload protection system;
The parts in contact with the product are sealed with SS304 stainless steel and PTFE;
After the power is cut off, the filling head is automatically closed by the innerspring to prevent the product from dripping;
After the filling is finished, the filling head automatically resets, and the safety interlock system;
The explosion-proof system of the whole machine, the standard is Exp DIIBT4.