Installation considerations for GCFC-2 3 in 1 filling and capping machine
2023.04.27
GCFC-2 3 in 1 Filling and capping machine is composed of filling, inner plug upper, inner plug pressing, upper outer cap, screw outer cap, PLC control and other main parts. The machine is driven by a cam, with accurate positioning and stable transmission. The PLC automatically controls the whole process of filling, pressing the inner plug, and screwing the cap. It can also be equipped with a fully automatic injection molding machine, which directly enters the filling system from the blowing bottle to prevent cross-infection. The whole process is completed under sterile conditions without washing and drying the bottle. This liquid filling and capping machine is suitable for the filling production of large and medium dosage preparations such as eye drops, iodine tincture, and vials.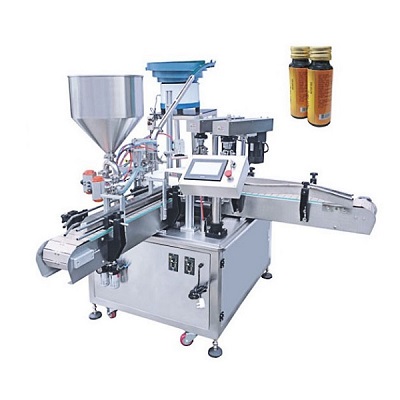 Features of GCFC-2 3 in 1 Filling and capping machine
1. GCFC-2 3 in 1 Filling and capping machine adopts manipulator capping, equipped with automatic sliding device to prevent damage to the cap.
2. Peristaltic pump or piston pump filling, accurate measurement and convenient operation.
3. The filling system has a suction function to prevent liquid dripping.
5. The main electrical components of this eye drop filling and capping machine are all well-known foreign brands.
6. The shell of the whole machine is made of 304 stainless steel, easy to clean, and the machine meets the requirements of GMP.
7. The place in contact with the liquid medicine is made of 316L stainless steel, which meets the GMP standard.
8. There is a dust cover to ensure safety and cleanliness during production.
9. Each step is tracked by electric eyes, and there is bottle filling and capping, no bottle without filling and capping.
10. The magnetic screw cap is adopted, and the screw cap does not damage the cap and does not loosen.
Installation considerations for GCFC-2 3 in 1 Filling and capping machine
1. After the machine is unpacked, first check whether the random technical information is complete, and whether the machine is damaged during transportation, so as to deal with it in time.
2. Install and adjust the feeding and discharging components according to the outline diagram in this manual.
3. GCFC-2 3 in 1 Filling and capping machine Add new lubricating oil to each lubricating point.
4. Roll the machine with the rocker handle to check whether the machine is working in the correct direction (counterclockwise when facing the motor shaft), and the machine must be maintained and grounded.