Description
The automatic screw capping machine is suitable for pharmaceutical, chemical, food, beverage and other industrial sectors. It is a special equipment for automatic bottle feeding, liquid filling, capping, locking, and bottle output of oral liquids, medicinal liquids, and chemical reagents. . The machine adopts knurling conveying bottle, low-speed liquid filling, electromagnetic vibration feeding cap, floating gland lock.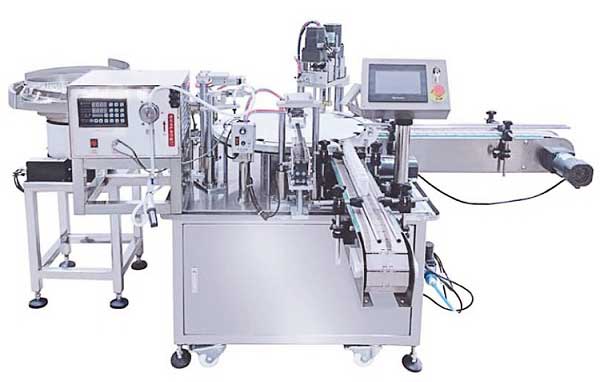 Automatic Screw Capping Machine Features
1. It is convenient and quick to change the bottle type
2. Chinese and English dialogue control panel, which can store multiple sets of variety parameters, and is particularly convenient to adjust and use;
3. Fully automatic operation, intelligent joint control with upper and lower processes, good coordination, no need for special operation, saving labor;
4. Strong compatibility, suitable for various bottle caps, various specifications, and various materials of round bottles, oblate round bottles, square bottles, and flat square bottles;
5. Photoelectric integration, high degree of intelligence, with multiple detection and alarm control functions such as no bottle, no cap, no fault self-inspection, etc., to ensure the continuity of production and the accuracy of capping.
How Does A Bottle Cap Machine Work?
The automatic cap unscrambling and capping machine adopts double motor design, which is convenient to operate, easy to maintain, reliable in operation and large in applicability. The purpose of tight bottle cap. This machine has the advantages of reasonable design, compact structure, adjustable capping torque, fast capping speed, strong reliability, simple operation and convenient maintenance.
GCFC-2 Automatic Capping Machine Technical Parameters
| | |
| --- | --- |
| Model | GCFC-2 |
| Voltage | AC 110v/220v 50-60HZ |
| Power | 1.8 KW |
| Working Pressure | 0.5-0.7 Mpa |
| Production Capacity | 15-30 pcs/min |
| Size | 160*160*138 cm |
| Weight | 450 kg |
The automatic screw capping machine has the functions of automatic cap sorting, cap feeding, automatic bottle feeding positioning, and automatic cap pressing. It can be linked with bottle unscrambler, filling machine, labeling machine, electromagnetic aluminum foil sealing machine and other equipment to form a fully automatic bottling production line.