Function introduction of HX-009 Full-automatic filling and sealing machine
2023.02.22
HX-009 Full-automatic filling and sealing machine is a high-efficiency sealing equipment composed of various parts. The structure of the automatic filling and sealing machine is complex and composed of different functional systems. So what systems should you pay attention to when using the automatic filling and sealing machine?
System features of HX-009 Full-automatic filling and sealing machine
Filling and sealing machine: Temperature control range: 0-400°C Frame: Made of all stainless steel (except the motor box plate) Acid-resistant aluminum template drive: precision cam divider step-by-step gap operation, high-performance reducer; stable transmission, shock The force is small and the position are accurate. Sealing: secondary heat sealing, the sealing pressure is adjustable.
Power about 6KW Output: about 1500-1800 boxes/hour. The box size is based on the sample, and the filling volume is 450g (adjustable). Rated air pressure: 1.0-1.2Mpa. Equipment size: 6000*700*1750mm Weight: 1500KG The machine works every 4 seconds and seals 2 boxes at a time. External 3m conveyor belt.
Structure of HX-009 Full-automatic filling and sealing machine
Aluminum plate part: aluminum alloy acid-resistant aluminum mold is used, which has the functions of no deformation, corrosion resistance, high hardness, and long service life;
Frame part: It is welded with high-quality stainless steel, except for the motor box board.
Transmission system: used motor, reducer, cam divider, template, and transmission chain.
Cup drop system: It consists of a rack, slide rail, cup storage bin, cup push cylinder, etc. The synchronous control action is completed by sending a signal when the template stops. Stable and efficient.
Filling system: The storage tank is made of stainless steel 304, and the size can be customized. The filling volume can be adjusted freely and the quantity is accurate. Filled in a measuring cup.
Film calibration system: Photoelectric eye tracking automatically corrects the film pattern and the alignment of the cup mouth.
Sealing system: It adopts constant temperature (intelligent temperature control) hot pressing twice to seal.
Film cutting mechanism: cold punching, cut out the cover film with an easy-to-tear opening, which is convenient for opening.
Cup output system: composed of slide rails, sliders, variable speed motors, mounting brackets, and external conveyor belts.
Main functions: automatic box drop, automatic quantitative filling, automatic sealing (non-woven fabric), automatic secondary sealing (aluminum foil film), automatic film cutting, automatic cup output to the conveyor belt for the next labeling procedure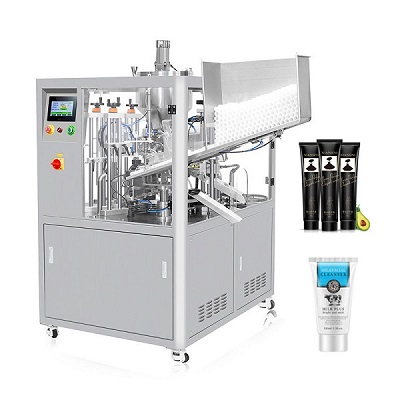 HX-009 Full-automatic filling and sealing machine scope of use
HX-009 Full-automatic filling and sealing machine is suitable for the production of various eight-treasure porridge, mung bean paste, and other products. It can automatically complete the automatic dropping of plastic bowls/cups, filling rice, filling lotus seeds, etc., water filling, ultraviolet disinfection of Bacteria, photoelectric positioning, two heat sealing, automatic core cutting and waste film recycling, and other functions.
Function introduction of HX-009 Full-automatic filling and sealing machine
1.HX-009 Full-automatic filling and sealing machine is made of steel and stainless steel, with a simple structure and easy operation.
We can manufacture the automatic soybean milk filling and sealing machine required by customers according to their needs.
2.HX-009 Full-automatic filling and sealing machine The whole machine adopts a Japanese OMRON programmable logic controller, pneumatic control components, and intelligent digital display temperature control system, which has high sealing strength, good sealing performance, and low failure rate Low-level characteristics, it is the preferred product for automatic production of enterprises.