Description
The automatic liquid filling machine adopts linear filling and has 12 anti-drip canning heads to ensure the cleanliness and sanitation during the filling process. The whole liquid filling machine is safe, environmentally friendly, hygienic, and beautiful. It can adapt to work in various environments. It can be filled with food, medicine, daily chemical edible oil, salad oil, Butter, cream, paint, lubricating oil, motor oil, pesticides, liquid fertilizer, foliar fertilizer, flushing fertilizer, thinner and other materials.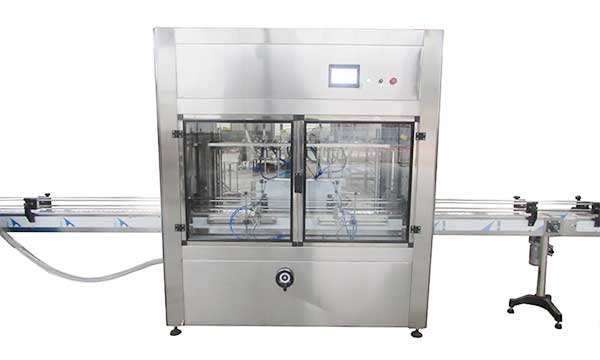 Automatic Filling Machine Advantages
1. The filling nozzle is submerged filling, which can effectively prevent the filling material from foaming or splashing;
2. The filling mouth is equipped with an anti-drip device to ensure that there is no wire drawing and no dripping during filling;
3. It can quickly adjust and replace bottles of different shapes and specifications without replacing parts, and has strong applicability;
4. All contact materials are made of stainless steel, corrosion-resistant, simple disassembly and assembly, easy to clean, in line with food hygiene standards;
5. Using electrical and pneumatic components of well-known brands at home and abroad, the failure rate is low, the performance is stable and reliable, and the service life is long;
6. It is easy to adjust the filling volume and filling speed. It is equipped with stop filling when there is no bottle or material, and automatic feeding. The liquid level is automatically controlled for feeding, and the appearance is beautiful;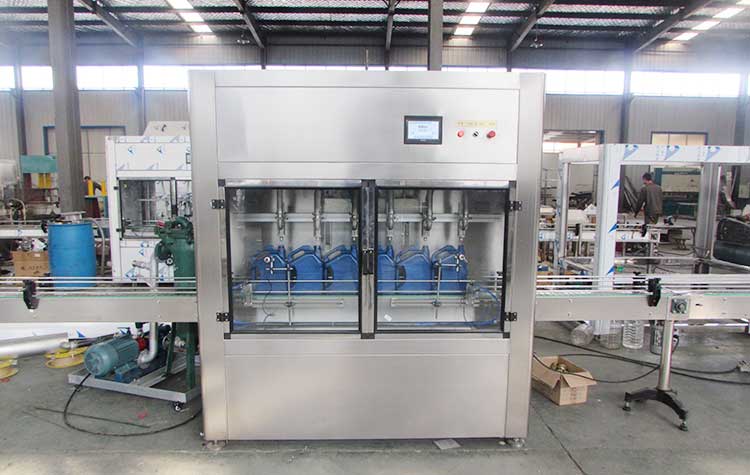 Automatic Liquid Filling Machine Technical Parameters
| | |
| --- | --- |
| Number of Nozzles | 4, 6, 8, 10, 12 heads |
| Filling range | 1-20 KG |
| Power supply voltage | 380V 50HZ |
| Equipment power | 5.5 KW |
| Weighing error | ≤0.2% |
| Production capacity | 100-130 barrels/hour/head (depending on material viscosity and manual swing speed) |
| Machine size | 2200*1500*2200 mm |
| Customer-supplied | Air pump and air pipe |
Here is the automatic liquid filling machine youtube video working process in our factory for your reference!!
Automatic Liquid Filling Machine Features
1. Set the required filling weight arbitrarily within the design range;
2. With automatic peeling function, automatic weight detection, automatic submerged filling;
3. Double-row or three-row conveyor belts are used, and the barrel is put into the barrel by a push rod, which greatly saves space;
4. Full Automatic 20KG weighing filling machine adopts vacuum suck back and anti-drip filling nozzle to prevent material from dripping;
5. The frequency conversion deceleration system is adopted at the end of the filling process, which will automatically decelerate when it is close to the quantitative value to prevent overflow and ensure accuracy;
Except the automatic liquid filling machine, we can also support you the  automatic cap feeding machine, bottle capping machine, bottle labeling machine etc. If you have any request of the liquid bottle filling and packing problems , welcome to contact us freely online to get more details and 100% free quotation!!