Features of HX-006 Semi-automatic filling and sealing machine
2023.03.29
HX-006 Semi-automatic filling and sealing machine has the characteristics of good sealing quality, simple and compact structure, convenient operation and maintenance, small size, lightweight, low noise, etc. It can seal large and small diameter cans by replacing a few parts. It is a small and medium-sized beverage, ideal equipment for food factories and canning factories.
HX-006 Semi-automatic filling and sealing machine is an advanced equipment for hose sealing. It uses ultrasonic waves to make the seal of the plastic hose generate impact high heat through the action of the transducer and melt it to bond quickly, so there is no need to add any auxiliary products. The sealing speed is fast, the quality is good, and the appearance is beautiful. The advantage is that it has little effect on chemicals, and will not cause deterioration of the product in the tube. It is not afraid of surface pollution and cannot be sealed. It solves the shortcomings of using adhesives or hot-melt welding.
HX-006 Semi-automatic filling and sealing machine Scope of application: Mainly used for the sealing of materials with hoses as packaging containers. It is suitable for product packaging in the fields of medicine, daily chemical, food, the chemical industry, and so on.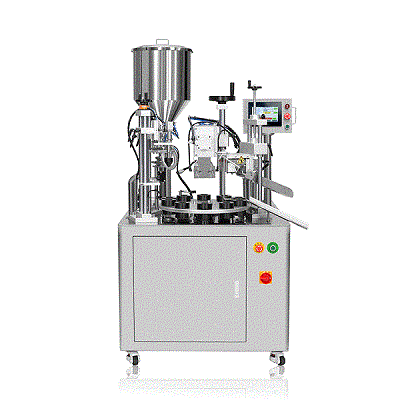 Features of HX-006 Semi-automatic filling and sealing machine
1. This machine is specially developed for the filling and sealing of continuous tubes, and is used in the mass production of continuous tubes;
2. Hand drop tube, machine automatic filling, sealing, and tail cutting, easy to operate;
3. The equipment adopts ultrasonic technology to seal, and the sealing effect is stable and long-lasting; the sealing lines are clear, with no deformation, and no bursting of the tube;
4. HX-006 Semi-automatic filling and sealing machine is controlled by a PLC touch screen, easy to operate;
5. The whole machine is made of 304 stainless steel, acid and alkali resistance, corrosion resistance;
6. Adopt Japanese Panasonic's high-sensitivity electric eye for benchmarking with stepping motors, and the benchmarking speed is fast and accurate;
7. Using a dual-purpose filling machine for paste and liquid, the filling accuracy can be controlled within ±1%.