Features of G1WG-U Pneumatic filling machine
2023.04.25
G1WG-U Pneumatic filling machine is a negative pressure semi-automatic filling machine, which is purely pneumatic equipment, does not need electricity, and is easy to operate. The operator only needs to clamp the bottle under the filling head or control it with a pedal to perform filling. The machine adopts the principle of vacuum constant liquid level filling, and fills the material into the container through stable vacuum suction, and the filling volume is the filling method of constant liquid level. When the material reaches the filling nozzle, the excess material is recycled into the recovery tank. The level of filling depends on how deep the filling nozzle is inserted into the container, so the liquid level is always the same regardless of whether the container is consistent or not. It is one of our economical filling machines. The parts in contact with materials are made of 304 stainless steel. It is suitable for filling glass bottles and plastic bottles that are not easily deformed after vacuuming. It is especially suitable for perfume, toilet water, eye drops, and nails. Oil, sesame oil, wine, white wine, battery fluid, detergent and other small doses of liquid filling, is your ideal choice for wiring or stand-alone use. The machine is easy to maintain, does not require special maintenance tools, has high filling accuracy, and will not miss filling. The number of filling nozzles can be customized according to your special requirements.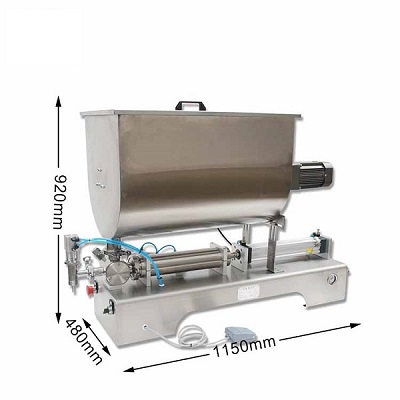 G1WG-U Pneumatic filling machine can directly extract grease from 200L oil barrel, the machine is accurate in quantification and easy to operate. The machine is controlled by a PLC computer. During operation, the operator only needs to place the container on the fatliquoring station, and the machine will automatically complete the filling work. The filling capacity can be 60ml~2000ml, and a larger filling volume can also be provided according to the needs of users.
Features of G1WG-U Pneumatic filling machine
1. G1WG-U Pneumatic filling machine the cylinder body, casing and hopper are all made of stainless steel, and the piston is made of polytetrafluoroethylene.
2. The pneumatic part adopts imported pneumatic components, which meet the requirements of GMP.
3. The way of filling capacity is to control the height of liquid level. There are no strict requirements on the shape of the bottle. Simple structure, easy operation and maintenance. Purely pneumatic machinery complies with anti-explosion requirements. Equipped with automatic drainage system.