Description
IBC Film Tube Inner Auto Loader Rotary Traction System Up-down Film Bulle Fixer Cooling System

Characteristics of YZH-G-1700 Three-layer co-extrusion film blowing machine
1. New tech of extrusion, large capacity ( more than 30% capacity increase ), good plasticizing performance.
2. Advanced technique of central-fed compact die head, compact structure, quick-change formula, saving raw materials.
3. IBC (internal bubble cooling ) system to improve the output, reduce energy consumption, and get better product quality.
4. Horizontal type reversing haul-off system to improve film quality .avoid edge wrinkling, and be suitable for the process of high-speed printing and multi-operation.
5. YZH-G-1700 Three-layer co-extrusion film-blowing machine adopts a full-automatic double-station winding system, automatic charging, automatic cutting, and meter counting functions.
6. Precise double-lip air ring
7. The surface of the machine frame is processed by advanced paint technology with long use life and superior anti-rust performance,
8. Incorporating many latest technologies to get higher output, better film thickness tolerance, and lower power consumption, and gain more value for the customers.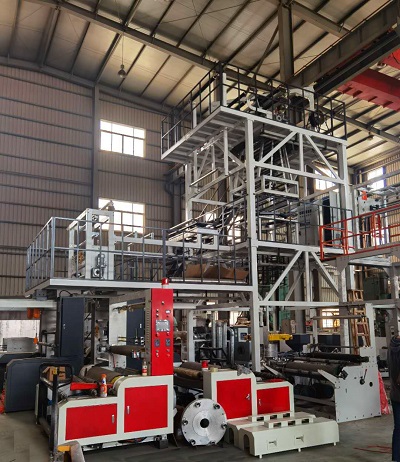 The main technical parameters of the YZH-G-1700 Three-layer co-extrusion film blowing machine
Layer: 3
Max. film lay flat width: 1600mm
Film thickness: 0.03-0.12mm
Max. Output: 250-300kg/h
Resin MLLDPE, LLDPE, LDPE, EVA
Screw diameter: φ55 φ65 φ55mm
Screw L/D ratio: 30:1
Max. screw rotation speed: 120r/min
Power of the main motor: 22/37/22kw
Bubble cooling mode Precise double-lip air ring, IBC ( internal bubble cooling ) system
Haul-off type Horizontal type 360-degree reversing haul-off system
Haul-off speed: 45-120min
Total power: 220kw
Overall dimensions: 11000X7000X10000mm
Total weight: 30T