Description
This YZH-300P-2 automatic rotary cream cup sealing packaging machine is a kind of equipment for sealing cream cups. It usually consists of an automated system that seals a plastic film over the cup to keep the cream tight and hygienic. The cream cup sealing packaging machine is widely used in the food industry. It can be used to seal and pack cream cups of various specifications and sizes to meet the needs of different customers. Whether it is a large-scale production enterprise or a small food processing factory, it can benefit from this advanced machinery and equipment.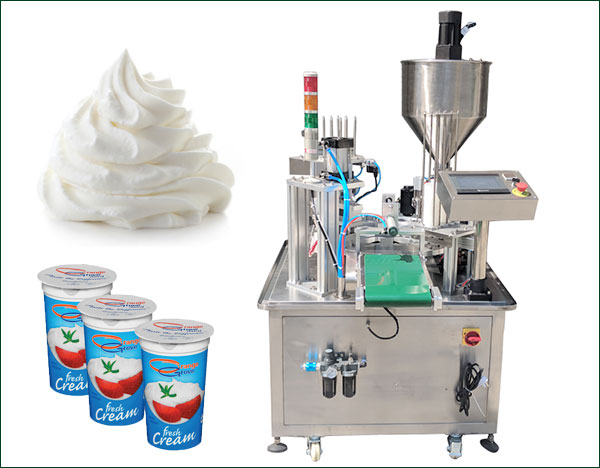 Cup Filling And Sealing Machine Advantages
Precision Filling
Precise automatic quantitative feeding system with small errors;
Second heat seal
It adopts secondary air pressure heat sealing, and the seal is tight;
Automatic coverslipping
Automatic suction and release of the film, effectively improving production efficiency;
YZH-300P-2 Filling And Sealing Machine Parameter
| | |
| --- | --- |
| Model | YZH-300P-2 |
| Voltage | 110V/220V/380V |
| Power | 1.2KW |
| Air pressure | 0.5-0.7Mpa |
| Cup diameter | customized |
| Working speed | 1600-1800cups/h |
| Filling volume | According to the cup volume |
| Machine dimension | 100x130x170cm |
| Machine weight | 350kgs |
Here is the cream cup filling and sealing machine working process in Our factory for your reference!!
Cream Cup Filling Sealing Machine Benefits
First, it can automatically complete the tasks of sealing and packaging without manual intervention, thereby reducing labor costs and labor;
Secondly, its sealing effect is very good, which ensures the tightness and hygiene of the cream cup and prevents the product from being polluted by the outside world;
In addition, its operation is simple and convenient, and the entire sealing and packaging process can be completed in just a few simple steps;
Most importantly, its production efficiency is very high, and it can quickly complete a large amount of sealing and packaging work, which improves production efficiency and output;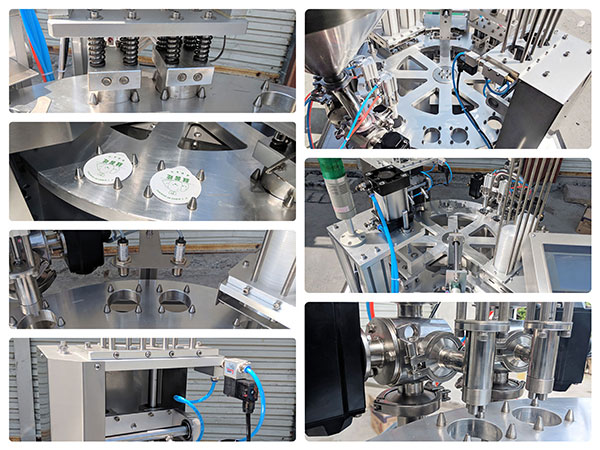 Rotary Cup Filling And Sealing Machine Features
1. Using PLC and man-machine interface control, the operation is simple and clear;
2. Ribbon date printer, UV, hopper with heating and mixing and plexiglass cover optional, etc;
3. YZH-300P-2 Pre-cut filling and sealing machine suitable for packing different material cups;
4. Featured with automatic load cup, filling, releasing sealing pre-cut lid, and output with a high degree of automation;
5. The filling accuracy is high, the electric eye automatically tracks and corrects the sealing position, and the sealing pattern is accurately aligned;
The cream cup sealing packaging machine is an efficient, convenient, and reliable mechanical equipment that can improve production efficiency and packaging quality. It has broad application prospects in the food industry and will bring more benefits and development opportunities to enterprises.