Description
This YZH-300J-1 automatic rotary jelly cup filling and sealing machine is an advanced equipment for efficient production of jelly cups. It has the characteristics of automation, and can automatically complete the functions of automatic cup drop-automatic filling-automatic film suction (roll film alignment)-sealing-automatic cup output of plastic cups and paper cups, etc. It can quickly and accurately complete the filling and filling of jelly Sealing work. This machine is designed and built to increase the efficiency and quality of jelly production.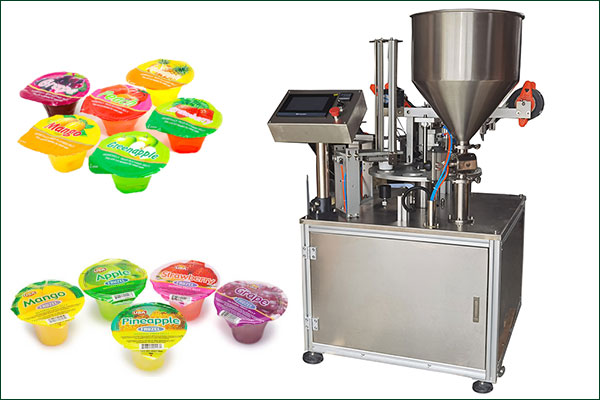 Jelly Cup Filling And Sealing Machine Advantages
First of all, it can greatly improve the efficiency of jelly production, reduce labor costs and time waste;
Secondly, it can ensure the quality and sanitation of the jelly, reducing the interference of human factors;
Finally, it can also improve the appearance and packaging of the jelly, increasing the attractiveness and competitiveness of the product.
YZH-300J-1 Rotary Cup Filling Sealing Machine Parameter
| | |
| --- | --- |
| Model | YZH-300J-1 |
| Voltage | 110V/220V/380V |
| Power | 1.6KW |
| Air pressure | 0.5-0.7Mpa |
| Cup diameter | customized |
| Working speed | 1600-1800cups/h |
| Filling volume | According to the cup volume |
| Machine dimension | 130x160x170cm |
| Machine weight | 480kgs |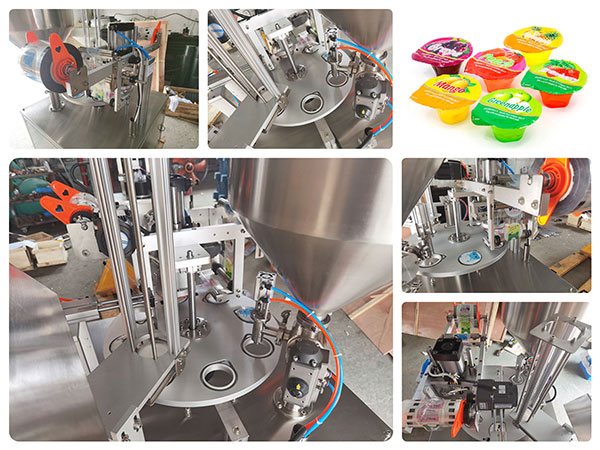 Cup Filling Sealing Machine Features
1. Ribbon date printer, UV, hopper with heating and stirring, optional protective cover, etc.
2. Automatic cup feeding, filling, sealing, and output are integrated, with a high degree of automation.
3. The equipment is made of high-quality 304 stainless steel and aluminum alloy, which meets the requirements of GMP.
4. YZH-300J-1 roll film filling and sealing machine is controlled by PLC and human-machine interface, and the operation is simple and clear.
5. The filling accuracy is high, the electric eye automatically tracks and corrects the sealing position, and the sealing pattern alignment is accurate.
6. Suitable for packaging cups of different materials, suitable for the production of various yogurt, water, milk, juice drinks, seasonings, jams, tofu, and other products.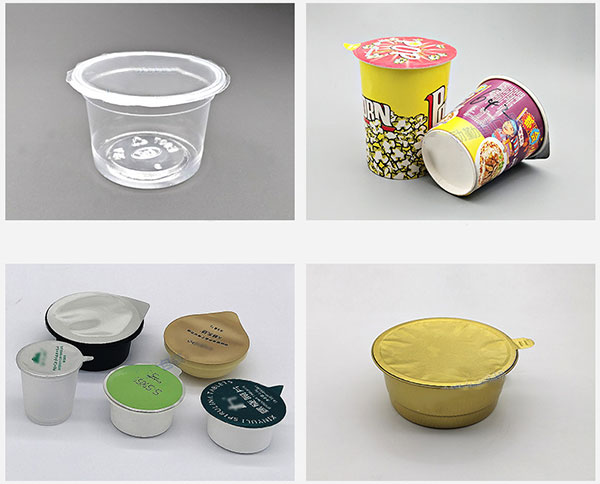 In a word, the automatic rotary jelly cup filling and sealing machine is an advanced piece of equipment that brings great convenience and advantages to jelly production. Its automatic features, high reliability, and intelligent functions make it an indispensable part of the jelly production line. With the continuous advancement of technology, it is believed that the jelly-filling machine will play a more important role in future jelly production.