Description
The YT-300 Automatic cup filling and sealing machine is suitable for yogurt and various viscous materials , and is widely used in the yogurt processing industry. It is an ideal cup/box yogurt filling and sealing equipment. It can automatically complete yogurt automatic cup dropping, metering, filling, film dropping, finished product transportation, and can be configured according to customer requirements to print batch numbers and other functions.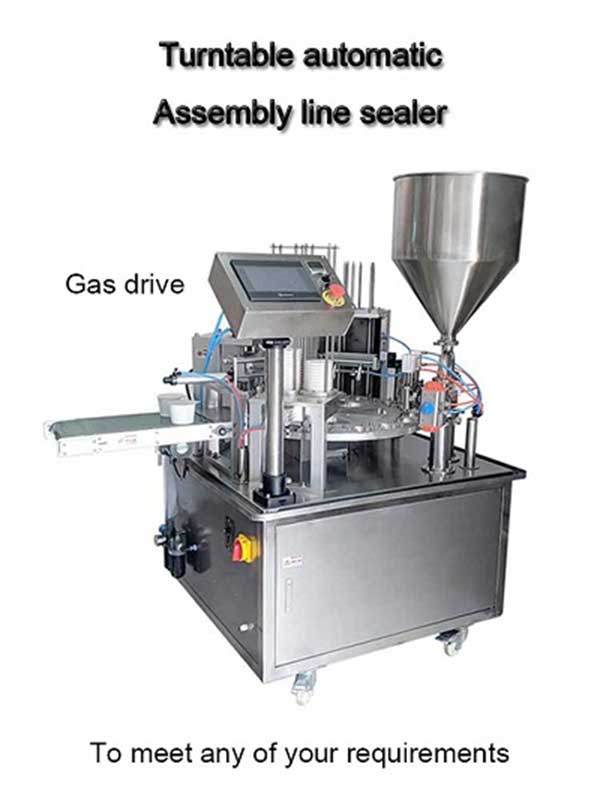 Automatic Cup Filling And Sealing Machine Features
1. Using PLC and man-machine interface control, the operation is simple and clear.
2. Ribbon date printer, UV, hopper with heating and mixing and protective cover optional, etc.
3. YT-300 Automatic cup filling and sealing machine suitable for packing different material yorgurt cups.
4. Featured with automatic load cup, filling, sealing, and output into one with a high degree of automation.
5. The yogurt and other liquid filling accuracy is high, the electric eye automatically tracks and corrects the sealing position, and the sealing pattern is accurately aligned.
How To Seal Cup-Yogurt Cup Filling Machine Working Process

Automatic Rotary Cup Filling And Sealing Machine Technical Parameters
| | |
| --- | --- |
| Model: | YT-300 |
| Working Method: | Pneumatic, work with air compressor |
| Filling Category | Paste and Liquid |
| Number of Filling Heads | One or Double |
| Working Speed: | 800-1000bottles/h or 1600-2000bottles/h |
| Cup Diameter | Customized |
| Filling Range: | 10-300ml |
| Filling Nozzle Diameter: | ≥4mm |
| Filling Accuracy: | ≤±1% |
| Hopper Volume: | 30L |
| Working Pressure: | 0.4-0.9MPa |
| Anti-drip function: | Yes |
| Can be with Heater Mixer | Yes |
| Power Supply | 220V/110V  50HZ/60HZ |
| Power | 1KW OR 1.6KW |
| Packing Size: | 100*100*175cm OR 120*120*175cm |
| Gross Weight | 300kg OR 380kg |
Non-standard cups can be customized, and cup sealing machines of different calibers can be customized according to the specific needs of customers. Meet the diverse needs of customers! !