Description
MT-50 Round bottle labeling machine adopts card position adjustment, easy-to-switch labeling of different workpieces, advanced electric eye, and high detection sensitivity of objects and labels. Synchronous belt traction, the mechanical stability is greatly improved. Suitable for self-adhesive labels, self-adhesive films, electronic supervision codes, barcodes, etc., and suitable for round bottle labelings such as plastic bottles, glass bottles, and metal bottles.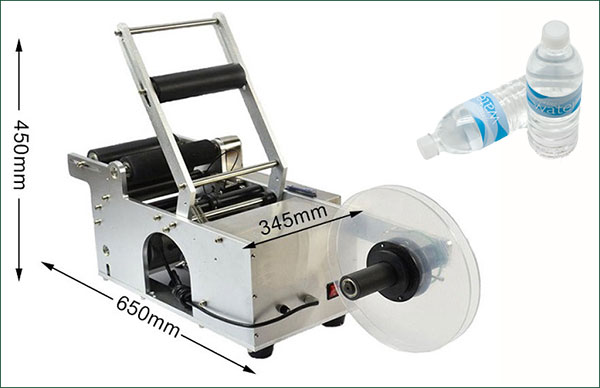 Label Applicator Advantages
Set reminder function, production count
It has a production counting function and a production number prompt function;
Carefully selected materials, real materials with strong performance
Made of stainless steel and aluminum alloy, the overall structure is solid and beautiful;
Automatic correction function, no matter the label
It has the functions of labeling nothing, automatic correction, and automatic detection without labels;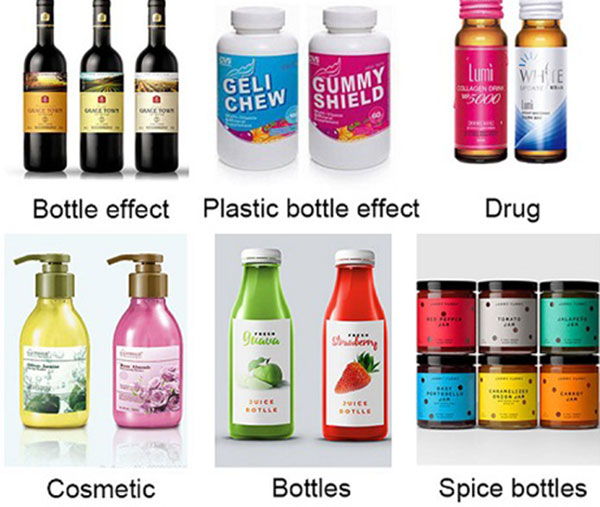 MT-50 Round Bottle Labeling Machine Parameter
| | |
| --- | --- |
| Model: | MT-50 |
| Working Method: | Semi-Automatic |
| Working Speed: | 20-40 Pcs/min |
| Bottle diameter: | 15-120mm |
| Minimum label size: | W26*L25mm |
| Maximum label size: | W150*L300mm |
| The inner diameter of the label roll: | 76mm |
| The outer diameter of the label roll: | 275mm |
| Packing Size | 650*345*450mm |
| Net Weight | 25kg |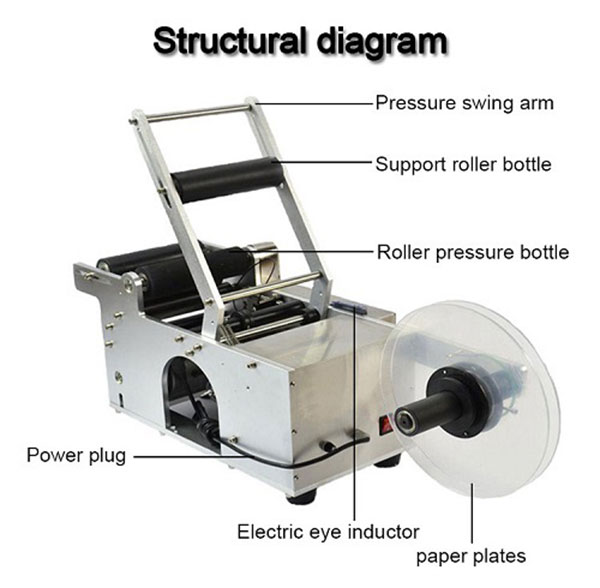 Round Bottle Labeling Machine Features
1. Printing speed can be as high as 300 m / min;
2. Using thermal foaming coding technology, the printing content is clear;
3. Lightweight and compact, flexible and compatible with various production lines;
4. Exquisite packing box with sponge cushioning protection in the box to avoid machine damage;
5. MT-50 Round bottle labeling machine offline works independently, free to edit and modify online;
Round Bottle Labeling Machine MT-50
Miniature design, small footprint;
Good stability, smooth and wrinkle-free;
Ingenious structure and easy fine-tuning;
Sensor electronic control, high safety factor;
Extremely fast temperature recovery, ceramic heating core;
Complete supporting information provides adequate protection;
The MT-50 round bottle labeling machine has a very broad prospect in the market. With the continuous advancement of industrialization, the demand for automation equipment in various industries is increasing. As an efficient and accurate labeling equipment, the MT-50 round bottle labeling machine will definitely be favored by the market. Especially in the food, pharmaceutical, chemical, and other industries, the demand for MT-50 round bottle labeling machines will continue to grow. Therefore, investing in the MT-50 round bottle labeling machine will be a very wise choice and can help customers obtain considerable economic returns.