Description
MT-200 Automatic flat labeling machine for bottles synchronous belt traction, the mechanical stability is greatly improved. Suitable for self-adhesive labels, self-adhesive films, electronic supervision codes, barcodes, etc., and suitable for Flat bottle labelings such as plastic bottles, glass bottles, and metal bottles.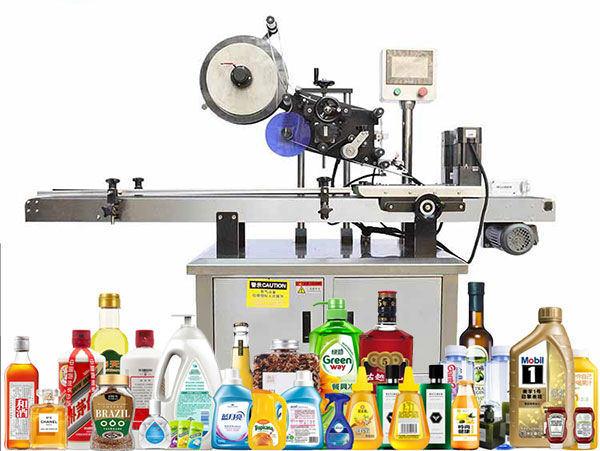 Automatic Flat Labeling Machine Structure
NO.1 High label coincidence;
N0.2 adopts a three-bar adjustment mechanism;
N0.3 intelligent control, automatic photoelectric tracking;
MT-200 Automatic Flat Labeling Machine Parameter
| | |
| --- | --- |
| Working Method: | Full Automatic |
| Labeling Speed: | 10-40 M/Min |
| Attached object size: | 30-80mm(Can be customized according to needs) |
| Max label Width: | 100mm(Can be customized according to needs) |
| The inner diameter of the label roll: | 76mm |
| The outer diameter of the label roll: | 330mm |
| Air Source | 4-6KG  30L/Min |
| Voltage | 220V/50HZ  2000W |
| Labeling Accuracy | ±0.5mm |
| Machine Size | 2000*800*1500mm |
| Net Weight | 250kg |
Automatic Labeling Machine For Bottles Advantages
1. Accurate quantitative;
2. High capacity and efficiency;
3. Easy to operate and convenient;
4. MT-200 Automatic flat labeling machine automatic extraction material;
Flat Labeling Machine Features
1. It has a wide range of applications, which can meet the full-circle labeling or half-circle labeling of round bottles. The labeling switch between bottles is simple and easy to adjust;
2. The labeling quality is excellent, and the elastic pressure-covered belt is used to make the labeling smooth and wrinkle-free, which improves the packaging quality;
3. Flexible application, bottle standing labeling, with automatic bottle separation function, can be stand-alone production, but also can be connected to the assembly line production;
4. High stability, advanced electronic control system composed of PLC+ touch screen + needle-shaped electric eye + measuring label electric eye, supports 7x 24-hour operation of equipment;
5. Intelligent control, automatic photoelectric tracking, with no object no labeling, no label automatic correction and label automatic detection functions, to prevent missing labels and label waste;
6. The adjustment is simple, and the labeling speed, conveying speed, and bottle dividing speed can be adjusted steplessly, and can be adjusted according to the needs;
7. Sturdy and durable, the three-bar adjustment mechanism is adopted to make full use of the stability of the triangle, and the whole machine is solid and durable. Made of stainless steel and high-quality aluminum alloy, it complies with GMP regulations.
8. The label overlap is high, the label tape detour adopts a deviation correction mechanism, the label tape does not deviate, the labeling position is x/y/z in three directions and the inclination is adjustable with eight degrees of freedom, and there is no dead angle in the adjustment, and the label coincidence degree high;