Maintenance tips for LX6000 Aluminum foil sealing machine
2023.02.24
LX6000 Aluminum foil sealing machine is used for aluminum foil sealing of plastic glass and other non-metal packaging containers in the industries of medicine, chemical industry, food, beverage, cosmetics, lubricating oil, etc.
LX6000 Aluminum foil sealing machine adopts the principle of electromagnetic field induction heating, which uses high-frequency current to generate a magnetic field through the inductance coil. When the magnetic force line passes through the sealing aluminum foil material, a large number of small eddy currents are generated instantly, causing the aluminum foil to heat itself at a high speed, and melt and compound on the aluminum foil. The sol can be pasted on the seal of the container to achieve the purpose of rapid sealing.
The material of the LX6000 Aluminum foil sealing machine can be polyethylene (PE), polypropylene (PP), polyester (PET), polystyrene (PS), ABS and glass, etc. It cannot be used for metal bottles and caps.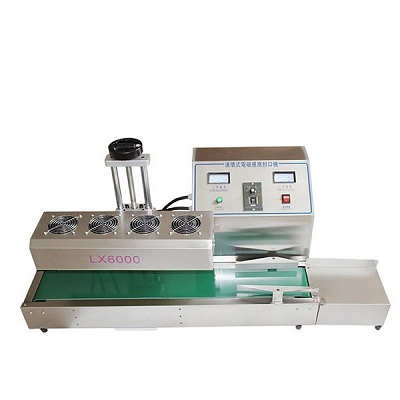 Maintenance tips for LX6000 Aluminum foil sealing machine
1. The induction aluminum foil sealing machine should be placed in a ventilated and dry place. Generally, the room temperature can be maintained at about 25°C.
2. Every 48 hours of operation, 6# engine oil should be added to all moving parts, mainly in gears, bearings, and gearboxes.
3. Dust should be removed regularly to keep the whole machine clean. When not in use, it is best to unplug the power supply and cover it with a cover cloth.
4. If the induction aluminum foil sealing machine runs for too long, the cooling fan should be turned on before shutting down, and then shut down after the temperature drops, because the temperate zone is easy to be damaged if it is shut down without cooling.
5. Dirt should be removed regularly in the temperate zone to ensure the sealing quality.
6. Seriously worn parts should be replaced in time to prolong the life of the whole machine.
The LX6000 Aluminum foil sealing machine should maintain a good ventilation environment during use, and the ventilation holes of the chassis should not be blocked. There is a voltage circuit board inside the machine, it is strictly forbidden to open the machine for maintenance, in case of an electric shock to the body. If any exposed wires are found before use, stop using the machine and wait for maintenance before using it. The aluminum foil sealing machine should not be hit, pressed, or damp during transportation, storage, and use.
LX6000 Aluminum foil sealing machine Instructions for use
LX6000 Aluminum foil sealing machine is small and light, easy to use, short bonding time, fast speed, strong fastness, stable performance, suitable for small batch production and laboratory operations. It must be heated during work, then pause for cooling, and then continue to heat and work again. Safe to use, the equipment is equipped with protection devices such as overcurrent, overheating, and overloading.