Description
JYD-C semi-automatic capsule filling machine has a fast filling speed and a small size difference. This capsule-filling machine integrates the three steps of powder capsule shell finishing, filling material, and capsule locking. It has a compact and convenient structure, exquisite and beautiful exterior light, and real materials, and conforms to GMP standards. It can be filled with various traditional Chinese and Western medicine powders, granules, and pellets. The body is made of high-quality stainless steel and meets GMP requirements.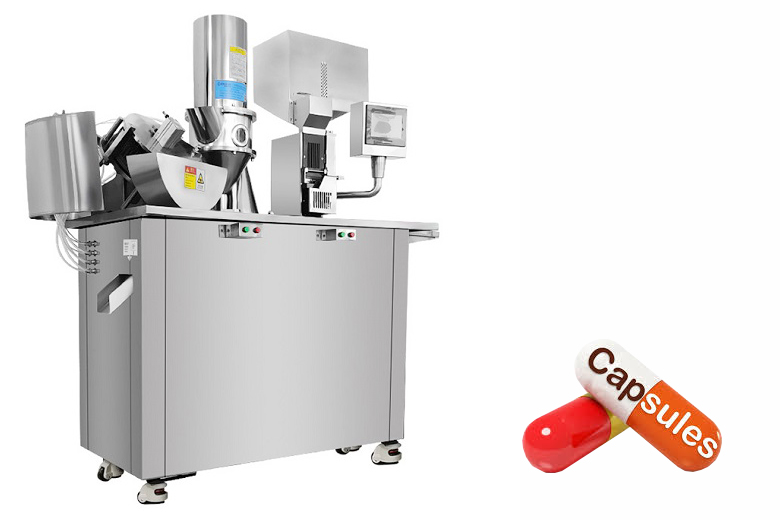 Horizontal lock bag, no powder leakage;
The filling dosage is accurate, the error is <3%;
The chamfering of the capsule plate is precise, and the capsules are not missing;
The speed of dual capsules is fast, and the output can reach 40,000 capsules/hour;
The concave shape of the thimble fits the capsule design without damaging the capsule;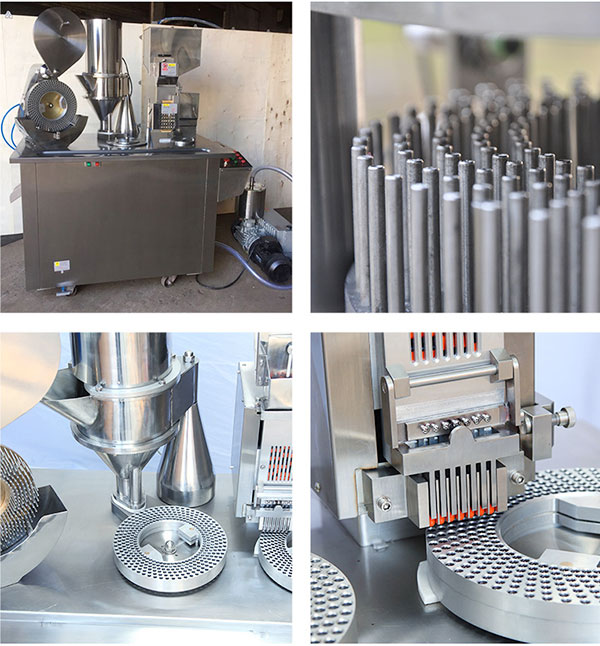 ◆The new mold is made of stainless steel, which meets the requirements of GMP.
◆The new-type capsule dispensing device has the characteristics of stable capsule dispensing, convenient replacement, and short time.
◆The machine has the function of frequency conversion and speed regulation, and the dosage can be adjusted by controlling the powder filling speed, and the accuracy can reach more than 97%.
Multi-language touch screen, cup delivery, empty cup detection, screw metering, powder dust removal, nitrogen filling + film release, film sealing, product out of the cup
Here is the semiautomatic capsule filling machine youtube video working process in our factory for your reference!!
| | |
| --- | --- |
| Model | JYD-C |
| Speed | 10000-25000pcs/h |
| Capsule size | #00 #0 #1 #2 #3 #4 |
| Voltage | 380V 50Hz / 110V 60HZ |
| Power | 2.1KW |
| Dimension(mm) | 1130*680*1620(LxWxH) |
| Package dimension(mm) | 1750*810*1740 |
| Weight(KG) | 330KG |
| Button press type price | USD 7,750.00 |
| Screen touch type price | USD 9,500.00 |
Hopper
The unit on the left is the empty capsule storage hopper. On the right is the powder storage hopper, which uses a spiral stirring device;
Capsule locker
Press the locking switch, and the horizontal locking plate will automatically move over to lock the capsule.
Capsule filling station
The device can fill the powder into the capsule and form it automatically.
Seeding station
The device is equipped with an empty capsule output and a capsule plate that can automatically separate the empty capsules and put them into the capsule mold.
About the capsule filling machine, we also have a fully automatic capsule filling machine, which can greatly improve the capsule filling efficiency and ensure your pharmaceutical business gets more profit!! If you are interested in the capsule filling machine, welcome to contact us freely to get a 100% free quotation!!