Description
The 6 colour flexo printing machine can use six different colors of ink for printing at the same time, making the printed matter more colorful and vivid. Whether printing posters, boxes or labels, this press is capable of meeting every printing need.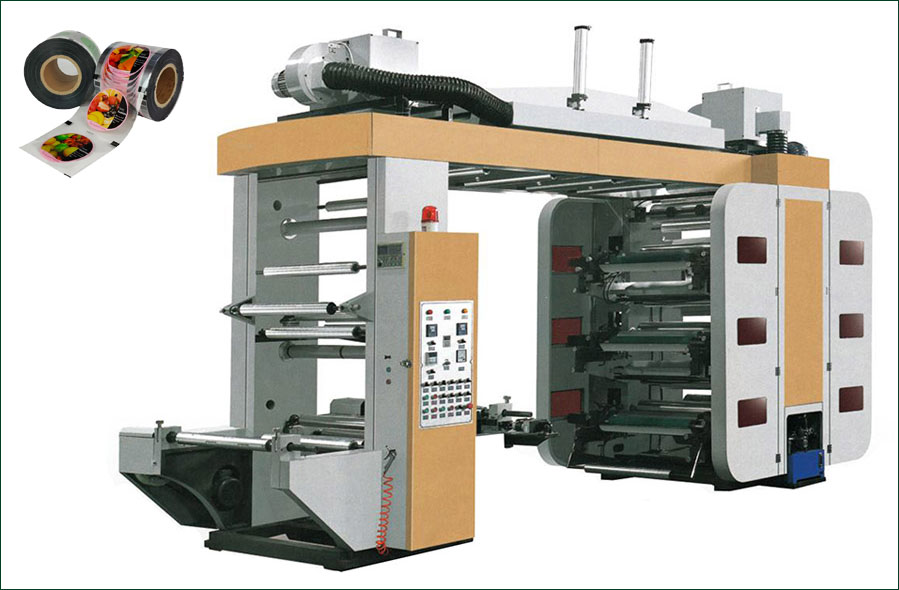 6 Colour Flexo Printing Machine Features
1. It is easy to operate, soft to start, and accurate in color registration.
2. 360-degree continuously adjustable longitudinal plate registration device.
3. The ink is transferred by the anilox roller, and the ink color is uniform.
4. Frequency conversion speed regulation, suitable for different printing speeds.
5. Reliable drying system, with high-speed operation, automatic circuit breaker at shutdown.
6. Pneumatic lifting and lowering of the printing plate cylinder, the ink is automatically stirred after lifting.
7. Unwinding tension is controlled by magnetic powder brake, and winding tension is controlled by magnetic powder clutch.
8. Jog and stop buttons are installed on the plate roller seat and the material receiving rack, which is convenient for manipulating the machine when loading the plate.
9. The meter counter can set the printing quantity according to the requirements, and it will automatically stop when the number is reached, and it will stop automatically when the material is cut off.
Here is the 6 color flexo printing machine youtube video working process in our factory for your reference!!
Flexo Digital Printing Machine Parameter
| | |
| --- | --- |
| Model | HT-Y 6 |
| Printing speed | 10-90m/min |
| Printing color | 6 colors |
| Highlight | Synchronous belt drive, Dry air circulation control |
Six-color high-speed flexographic printing machine is an advanced printing equipment with fast, efficient and precise printing capabilities. It has a wide range of applications in the field of commercial printing and custom printing, providing users with high-quality printed products. Whether it is mass production or small batch customization, this printing machine can meet various needs and become an important tool in the printing industry.