Description
The plastic film granulator production line main machine is an extruder, the plastic film granulating production line is composed of an extrusion system, a transmission system and a heating and cooling system. It adopts a special screw design and different configurations, and is suitable for the production of PP, PE, PS, ABS, PVC, PC, POM , EVA, PET various plastic mixed color granulation.
The plastic film granulation production line working principle is to process the waste plastic film through a series of processing steps, including crushing, cleaning, drying and granulation, and finally obtain uniform plastic granules. These particles can be used again to make new plastic products, such as plastic bags, plastic bottles, etc., to realize the recycling of plastic resources.
Plastic Film Granulating Production Line
Heating and cooling device
Heating and cooling are necessary conditions for the plastic extrusion process to be carried out;
Extrusion system
The extrusion system includes a screw, a mold, a hopper, and a head, and under the pressure established in this process, the head is continuously extruded by the screw;
Transmission system
The function of the transmission system is to drive the screw and supply the torque and speed required by the screw during the extrusion process, usually composed of a motor, a reducer and a bearing;
Advantages
Long lasting;
Wet and dry;
Easy to clean;
Efficient motor;
Drainage and exhaust;
Automatic temperature control;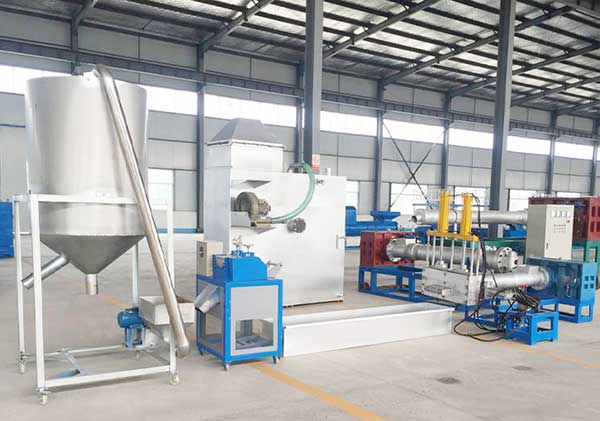 Plastic Film Granulating Machine Parameter
Model
SJ-90C
SJ-100C
SJ-110C
SJ-120C
SJ-140C
Diameter of   Screw
90/100mm
100/100mm
110/110mm
120/110mm
140/130mm
L:D
20:1/12:1
20:1/12:1
20:1/12:1
20:1/12:1
20:1/12:1
Speed of Screw
10-110rpm
10-110rpm
10-110rpm
10-110rpm
10-110rpm
Gearbox
180/173
180/173
180/173
200/173
225/180
Motor Power
22KW/15KW
22KW/15KW
30KW/15KW
37KW/18.5KW
55KW/22KW
Output
110kg/h
130kg/h
150kg/h
180kg/h
220kg/h
Water Tank
Stainless
Filter changer
Hydraulic
Cutter Knife
Hob (Alloy Steel)
Cutter Motor
2.2kw
2.2kw
3kw
3kw
3kw
Machine Weight
2.4t
2.6t
2.8t
3t
4t
Overall Dimensions
8.8*1.5*1.1m
9*1.3*1.2m
9.2*1.3*1.3m
9.6*1.4*1.3m
9.6*1.5*1.3m
Granulation Production Line Advantages
High speed design, solid and stable optimized design;
Small footprint, low power consumption, high-quality finished products, and wide application range;
The electric control system is convenient to operate, and the electrician carefully checks the electric control system to ensure the quality of the installation;
Plastic film granulation production line is an important plastic recycling and reuse equipment. It can convert waste plastic film into granules and realize the recycling of plastic resources.