Description
GX-1 Magnetic pump beverage liquid filling machine is controlled by intelligent numerals, it is to use a bit computer to control the filling time, motor speed, and other factors of the micro-diaphragm water pump, so as to achieve uniform liquid filling with small repeat errors. The beverage liquid filling machine is mainly suitable for ideal filling equipment for juice, jam, sausage, beverage, etc non-viscous liquid, the working speed is fast, stable, and accurate.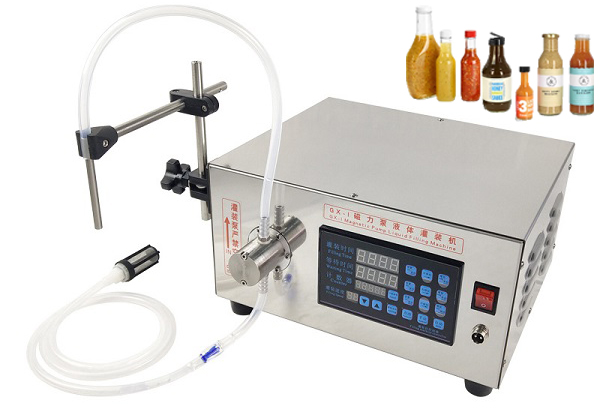 Magnetic Pump Features
It can be equipped with multiple filling heads, and the commonly used models are single-head machines, double-head machines, and four-head machines (which need to be customized).
The pump body of the water pump is made of a variety of imported materials. The pump body is separated from the motor. There are no mechanical metal parts and no wear in the pump body.
The water pump combines the advantages of self-priming pumps and chemical pumps and has the advantages of self-priming function, thermal protection, stable operation, long-term continuous idling, and long-term continuous load operation.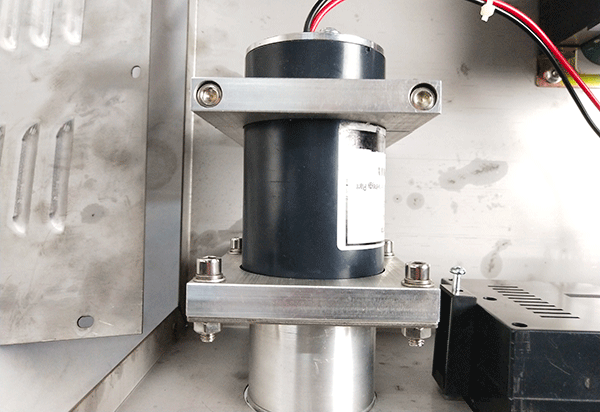 GX-1 Magnetic Pump Filling Machine Advantages
1. The pump head is made of 316L, resistant to acid and alkali and corrosion;
2. Complete functions, manual and pedal intermittent filling can also be automatic intermittent filling, the interval time is adjustable;
3. The pump head and motor are imported from Japan, and other components are made in Taiwan, with stable and reliable performance and long service life;
4. Wide application, almost all liquids that can flow can be filled, especially suitable for filling oils, washing liquids, acid, and alkali liquids, and highly corrosive liquids.
5. GX-1 Magnetic pump filling machine uses a frequency converter to start and brake, and a potentiometer to adjust the number of motor revolutions, filling time accurate to 0.01 seconds, so as to ensure accurate filling.
Here is the water filling machine working process in our factory for your reference!!
GX-1 Magnetic Pump Filling Machine Technical Parameters
| | |
| --- | --- |
| Model: | GX |
| Working Method: | Digital Control |
| Number of Filling Heads | Double/Single |
| Working Speed: | 10-30 times/min |
| Filling Range: | 5-5000ml |
| Filling Nozzle Diameter: | ≥4mm |
| Filling Accuracy: | <0.5% |
| Maximum suction | 2 meters |
| Anti-drip function: | Yes |
| Power-off memory function | Yes |
| Power Supply | 220V/110V  50HZ/60HZ |
| Power | 40W |
| Packing Size: | 56*46*29cm |
| Gross Weight | 14kg |
Magnetic Pump Liquid Filling Machine Features
LED LCD display
Multi-functional operation panel jog/manual/automatic three control modes;
Discharge nozzle anti-drip
The anti-drip one-way valve is used to install the head to improve the filling accuracy;
Smart MCU
The filling is more accurate, performance is further improved, and intelligent control;
Whole stainless steel body
Selected stainless steel material, strong, wear-resistant, and corrosion-resistant, with long service life;
Food-grade silicone tube
The selected silicone tube is non-deformable, non-cracking, and corrosion-resistant, and the feeding belt is filtered;
Safety switch
Built-in power failure safety device protects the machine in time, overheating power failure/over temperature protection/overvoltage protection/explosion protection;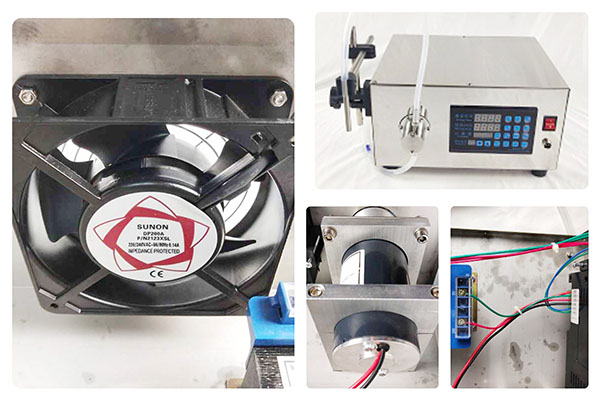 Small Liquid Filling Machine Operation Instructions
Prepare the liquid to be filled, connect the 220V power supply, adjust the filling time, intermittent time, and timer, first press the jog switch to test the machine, and the motor works normally;
Press the manual button, use the foot switch to control the filling machine to work, and step on it, the filling machine works once;
Press the automatic key, the filling machine will automatically work continuously according to the set time.
If you are also interested in the magnetic liquid filling machine or have any requests for the small water filling machine, welcome to contact us freely online to get more details online!!