Description
GFK280 series intelligent numerical control liquid filling machine is to use bit computer to control the filling time, motor speed and other factors of micro-diaphragm water pump to achieve uniform liquid filling method with small repeat error. It is widely used in medicine, Petroleum, chemical, edible oil, beverage, wine, cosmetics and other industries, suitable for small batch production of liquids with low viscosity, no particles and good fluidity, not suitable for liquids with corrosion and acid and alkali. It is very suitable for filling beverages, liquor, vinegar, soy sauce, juice, essential oils, and perfume liquid products. Users can set the canning capacity according to their needs.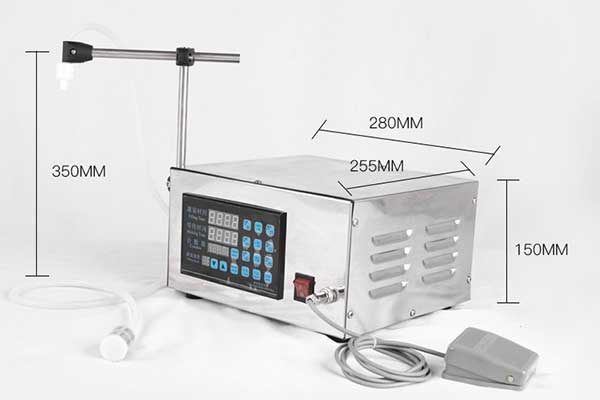 Automatic Liquid Filling Machine Advantages
1. Upgrade great motor
2. Microcomputer control
3. Stainless steel case
4. The leak-proof design
GFK280 Liquid Automatic Quantitative Filling Machine Parameter
| | |
| --- | --- |
| Model: | GFK-280 |
| Working Method: | Digital Control |
| Number of Filling Heads | One/Double/Multiple |
| Working Speed: | 10-30 times/min |
| Filling Range: | 3-3500ml |
| Filling Nozzle Diameter: | ≥4mm |
| Filling Accuracy: | <0.5% |
| Maximum suction | 2 meters |
| Anti-drip function: | Yes |
| Power-off memory function | Yes |
| Power Supply | 220V/110V  50HZ/60HZ |
| Power | 30W |
| Packing Size: | 38*32*20cm |
| Gross Weight | 7.5kg |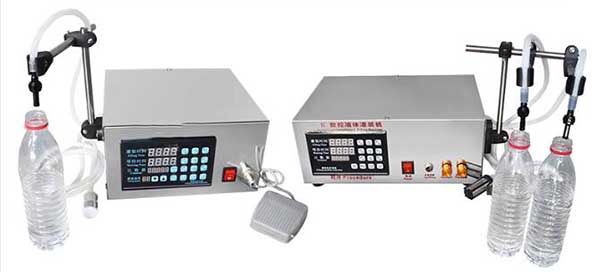 Water Filling Machine Features
Discharge nozzle anti-drip
The anti-drip one-way valve head is used to improve the filling accuracy;
LED LCD display
Multi-functional operation panel jog/manual/automatic three control modes;
Smart MCU
Filling is more accurate, performance is further improved, and intelligent control;
Whole stainless steel body
Selected stainless steel material, strong, wear-resistant and corrosion-resistant, long service life;
Food grade silicone tube
The selected silicone tube is non-deformable, non-cracking, corrosion-resistant, and the feeding belt is filtered;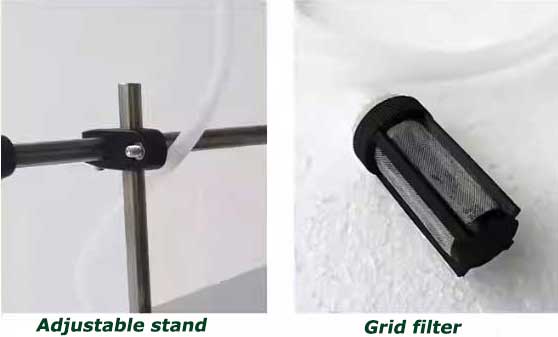 Stainless steel bracket 360° rotation, flexible and convenient at any angle;
Filter impurities to ensure liquid quality;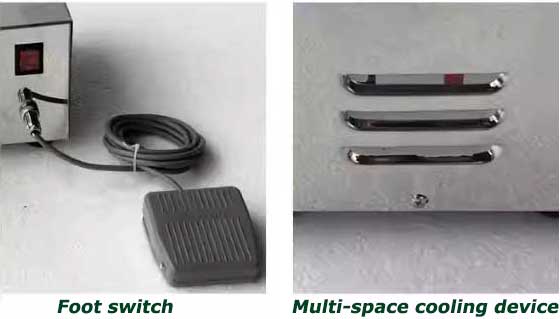 It can be manual, and the pedal can discharge one material at a time, and it can be automatic, and the interval time can be set for filling;
Anti-corrosion, easy to clean, automatic heat dissipation protection of the fuselage;
Liquid Filling Machine Instructions:
Prepare the liquid to be filled and connect to the 220V power supply;
Adjust the filling time, intermittent time and timer, press the jog switch to test the machine first, and the motor works normally;
Press the manual button, use the foot switch to control the filling machine to work, step on it, the filling machine works once;
Press the automatic button, the filling machine will automatically and continuously work according to the set time;
Here is the liquid filling machine youtube video working process in our factory for your reference!!
Liquid filling machines are indispensable equipment in modern industry. It provides convenience and benefits to various industries through automation and efficient filling process. Whether it is large-scale production or small batch production, water filling machines can meet various needs and create greater value for enterprises.