Description
Double head pneumatic paste filling machine can be used for canning paste liquid at the same time and has a wide range of applications. It is suitable for precise quantitative packaging in industries such as food, daily chemicals, pesticides, medicine, and beverage sauces. We can also support customers with customized filling capacity according to their requests.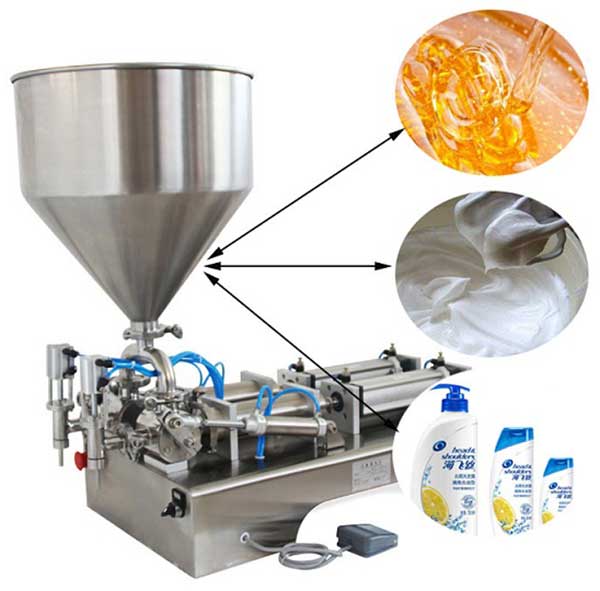 Double-Head Paste Filling Machine Working Principle
The horizontal paste double-head filling machine is a filling machine for high-viscosity flow. It extracts and pumps high-viscosity materials through the three-way principle of a cylinder driving a piston and a rotary valve, and uses a magnetic ring switch to control the stroke of the cylinder to adjust the filling volume.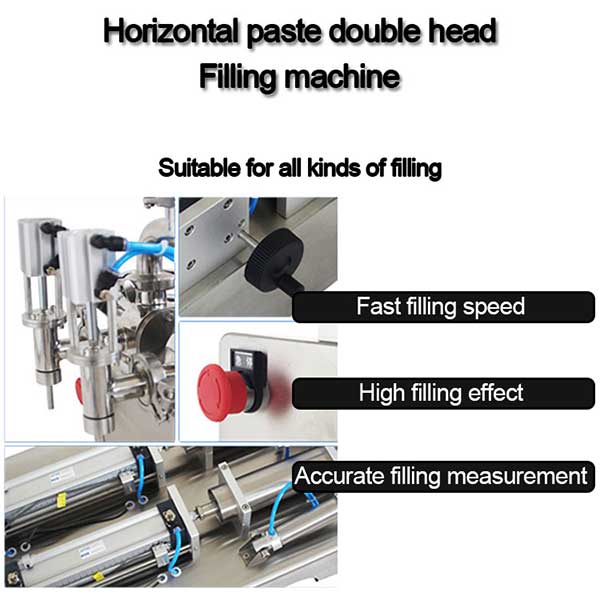 Pneumatic Paste Filling Machine Technical Parameters
| | |
| --- | --- |
| Model | G2WG-V |
| Working Method | Pneumatic (work with air compressor) |
| Filling Category | Paste and Liquid |
| Number of Filling Heads | One/Double/Multiple |
| Working Speed | 15-35 Cans/min |
| Filling Range | 10-100ml,30-300ml,50-500ml,100-1000ml,250-2500ml,350-3500ml,500-5000ml |
| Filling Nozzle Diameter | ≥4mm |
| Filling Accuracy | ≤±1% |
| Hopper Volume | 30L |
| Working Pressure | 0.4-0.9MPa |
| Anti-drip function | Yes |
| Can be with Heater Mixer | Yes |
| Power Supply | 220V/110V 50HZ/60HZ |
Pneumatic Paste Filling Machine Feature
Cylinder homing
Cylinder homing knob, easy to operate, stable durable;
Stainless steel outlet
Thickened stainless steel, made of stainless steel stable and durable accurate filling long life;
Filling scale
Accurate, efficient, safe design, accurate scale design, convenient and fast quantitative filling;
Large capacity hopper
Durable work, large-capacity stainless steel hopper can work continuously and is not easy to rust;
Independent Rotary Valve Cylinder
High precision and small size, which fully guarantees the closure of the rotary valve and is not easy to leak;
Filling speed
The adjustment knob, combined with the principle of mechanics, is durable and stable, and has excellent performance;
Small details make a big difference
The compact body is easy to operate, the operation is convenient and practical, and the work efficiency is fast and stable;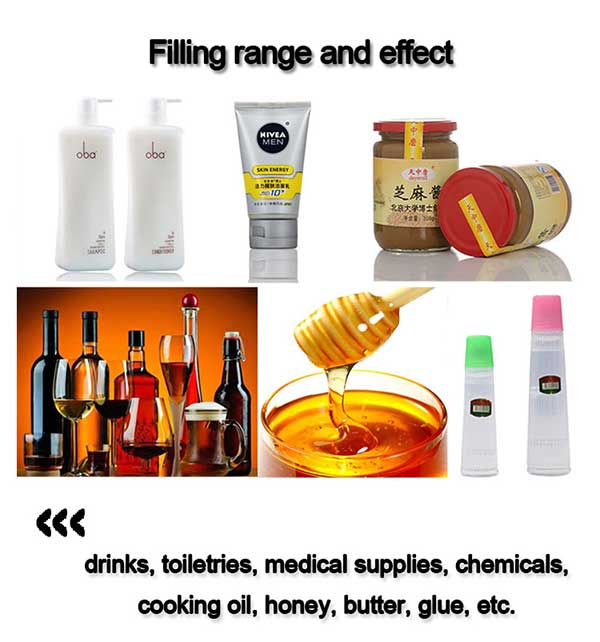 Here is the pneumatic paste filling machine youtube video testing in our factory for your reference!!
Paste Filling Machine Using Instructions
1. Switch between two filling methods
This machine has two filling methods, pedal and automatic, which can be switched at will;
2. Versatility, suitable for all kinds of costumes
This paste-filling machine is ideal for filling food, daily chemical, pesticide, and special industries;
3. Influencing factors of filling speed
The viscosity of the material, the stroke of the cylinder, the size of the filling, the proficiency of the operator;
4. Cleaning requirements
The rotary valve is made of wear-resistant, acid-resistant, and high-temperature-resistant PTFE material, and it cannot be knocked and collided at will when it is clear;