Description
This Full-automatic flow meter filling machine uses high-precision flow meters and real-time temperature collection to compensate for the density changes of oil products due to temperature differences, thereby effectively ensuring the accuracy of filling.
Features of Full-automatic flow meter filling machine
1. The Full-automatic flow meter filling machine interface is adopted, with complete functions, convenient, reliable, and simple operation;
2. The filling volume can be adjusted in a large range, and the adjustment division value is 1ml.
3. The filling and unloading forms are oblique punching or direct punching to suit different liquid fillings. The oblique punching type is suitable for liquid materials that are easy to foam. The filling nozzle positioning mode is plug-in or suspended to adapt to different types. Filling high-level products.
4. The liquid supply form can be a high-position tank or pumped liquid, which greatly improves the production capacity.
5. Using frequency conversion speed regulation, the first fast and then the slow pipes are mixed, which effectively solves the phenomenon of steam and foam overflow during pump pressure fast filling, which can ensure the filling accuracy;
6. Unique filling head design and vacuum suction system to ensure that the site and packaged products are not contaminated by residual liquid.
7. The electrical and gas main components are equipped with well-known quality components to ensure the reliability, accuracy, stability, and durability of the system operation.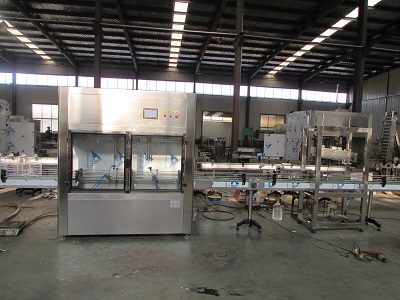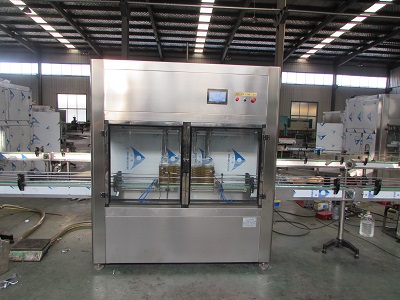 Technical parameters of Full-automatic flow meter filling machine
| | |
| --- | --- |
| Item# | YZH-FM20 |
| Available Bottle Height | Customized |
| Available Bottle Diameter | Customized |
| Filling Speed | 10~20pcs/min(If filling range 1 liter) |
| Power (KW) | 0.75~1.5kw(380V/50Hz) |
| Filling Range | 1~20 Liters |
| Filling Accuracy | ≤±0.2% |
| Dimension(mm) | 1900*1600*2000 |
| Net Weight(kg) | 800kgs |