Description
The manual L-shaped sealer heat shrink packing machine is generally used as ancillary equipment for heat shrink packaging machines, and can also be used alone; the L-shaped sealing and cutting knife enables the shrink film packaging to be sealed and cut in one step, and the Teflon non-stick layer sealing cloth ensures that the sealing and cutting film does not stick to the film, and the sealing is neat without cracking, after the product is sealed and cut, it enters the heat shrink machine to complete the packaging.This heat shrink packing machine can continue working and is suitable for PP PVC POF film sealing cutting packaging.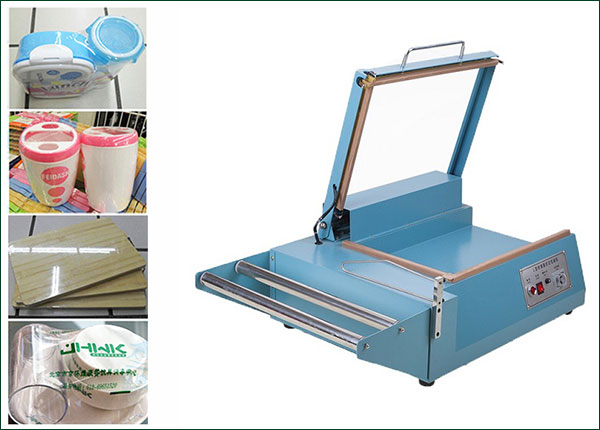 Heat Shrink Packing machine Advantages
1. High-quality paint plating body, durable and beautiful.
2. FQL-380 Shrink machine use a control panel easier to operate
3. High-temperature heat release heating wire, has high resistivity and good surface oxidation resistance
FQL-380 Manual L Type Sealer Parameter
| | |
| --- | --- |
| Model | FQL-380 |
| Voltage | 220V/50-60HZ |
| Power | 1KW |
| Packing speed | 10-25pcs/min |
| Max. sealing size | 520*360mm |
| Machine Size(mm) | 950L*550W*370H |
| Weight | 27KG |
| Sealing cutting time | 0-3S |
Here is the manual L type heat shrink packign machie nyoutube video working process in our factory for your reference!!
L Type Heat Shrink Packing Machine Features
NO.1 The operation panel is simple and convenient
NO.2 adopts pulse fusion sealing and cutting method
NO.3 Strong sealing and cutting; suitable for a variety of shrink films
Heat Shrink Packing Machine Precautions And Maintenance:
1. This machine is used in conjunction with a heat shrink machine.
2. When cleaning and inspecting the machine, unplug the power plug first! The power fuse of the L-shaped sealing and cutting machine is 10A.
The manual L-shaped sealing heat shrink packaging machine is an efficient, convenient and economical packaging equipment. It uses heat shrink technology to provide products with protection and beautiful packaging. Whether you are a large business or a sole proprietor, you can benefit from this kind of machine.