Description
CSY-L36 Diaphragm pump liquid filling machine uses the principle of a diaphragm pump to transfer liquid from one container to another. This liquid filling machine has the characteristics of high efficiency and stability and is widely used in chemical, pharmaceutical, food, and other industries. It is suitable for filling cosmetics emulsion, oil, water, perfume, and other liquids.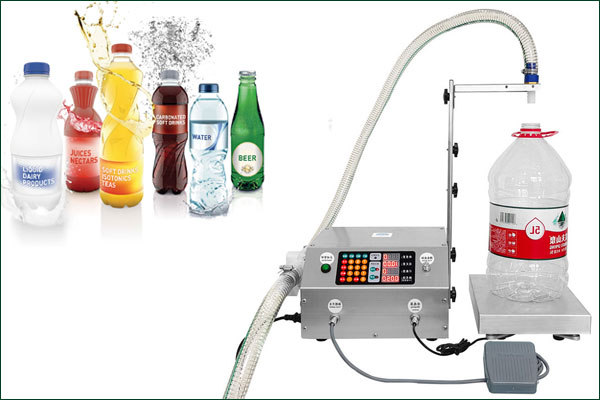 Diaphragm Pump Filling Machine Working Principle
The diaphragm pump filling machine's working principle is to use the compressed air of the diaphragm pump to drive the liquid flow. During the working process, the diaphragm pump uses compressed air to draw liquid from one container into the pump cavity of the diaphragm pump and then discharges the liquid into another container through the compressed air. This way of working ensures that the liquid is pollution-free and leak-free.
Water Filling Machine Design Highlights
Flexible installation: split type/-body type free transformation;
Automatic management: automatic induction, intelligent filling;
Various modes: free switching between weighing quantitative and time quantitative;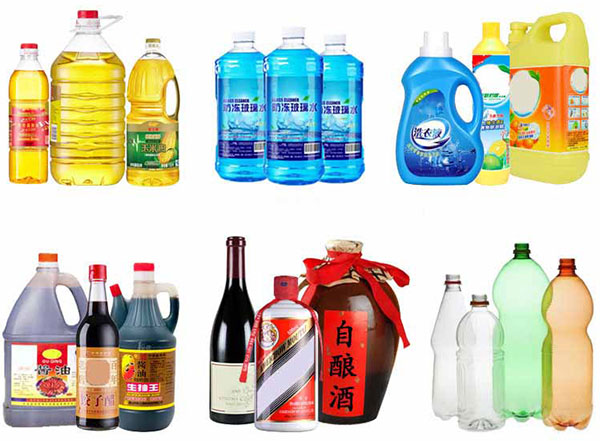 Technical parameters of CSY-L36 Diaphragm pump filling machine
| | |
| --- | --- |
| Model | CSY-L36 |
| Recommended filling | 0.05-30 kg |
| Maximum weighing | 30 kg |
| Division value | 5 g |
| Pump type | Diaphragm pump |
| Maximum flow rate | 36 L/min |
| Filling error | ≤5 g |
| Stand height | 0~40cm |
| Water pipe material | PVC steel wire pipe |
| Water pipe specification | 25*31 mm |
| Water pipe length | 2+1 m |
| Host size | 26*26*15 cm |
| Packing size | 35*35*35cm |
| Package weight | 13 kg |
| Rated power | 300 W |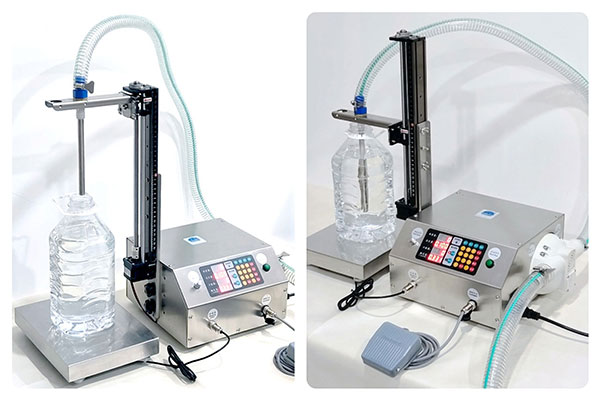 CSY-L36 Diaphragm Pump Filling Machine Features
1. CSY-L36 Diaphragm pump filling machine Each model has an English version, with foreign plugs and English manuals;
2. Panel display: Weighing weight, setting amount, counter, trigger value, and flow rate value, using LED digital tube display;
3. Diaphragm pump: pumps water by the suction of the diaphragm in the pump chamber, similar to the principle of syringe pumping, the liquid will pass through the inside of the pump chamber;
4. Basic functions: Real-time weighing, overload alarm, automatic counting, automatic start, automatic speed reduction, automatic stop, data storage, flow rate adjustment, weight calibration, quantitative filling according to time, factory reset, and other functions;
Liquid Filling Machine Advantages
First of all, it has a self-priming ability and can work normally when the liquid level is low;
Secondly, it can adapt to different types of liquids, including high viscosity, corrosive liquids, etc.;
In addition, the diaphragm pump filling machine also has the characteristics of small size, simple structure, and convenient maintenance;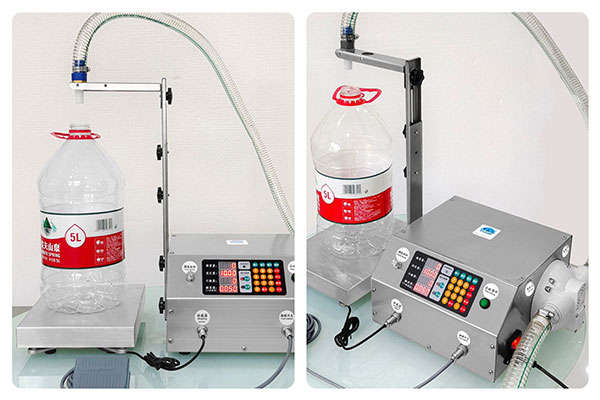 Small Scale Water Filling Machine Details
Sliding Hose Brackets
Anti-drip outlet (0-40cm adjustable);
panel display
The panel is clear, easy to operate at a glance;
stainless steel body
The casing, bracket, and tray are all made of stainless steel;
Inlet pipe: 1-inch steel wire hose 2 meters long;
Outlet pipe: 6 points steel wire hose 1 meter long;
Weighing
Using electronic scales with high precision and responsiveness as the measurement standard, its performance can surpass all time-quantitative methods;
The diaphragm pump liquid filling machine adopts a split design, independent weighing platform, and main machine, split installation is suitable for filling large barrels, and the weighing platform can also be placed on the main machine; the installation of an integrated machine is small and does not take up space, suitable for filling the small bottle. You can choose different types of liquid filling machines according to your filling request!!
A diaphragm pump filling machine is an efficient and stable piece of equipment, which is widely used in chemical, pharmaceutical, food, and other industries. It works simply and has several advantages. With the development of the industry, the diaphragm pump-filling machine will continue to play an important role, providing support for the production of various industries.