Description
The CSY-L13 small-scale liquid paste peristaltic pump filling machine adopts advanced peristaltic pump technology, which can realize accurate liquid control and filling operation, ensure the accuracy and consistency of products, and meet various production needs. Whether it is a high-viscosity liquid, volatile liquid, or liquid containing solid particles, CSY-L13 peristaltic pump filling machine can complete the filling task stably and effectively. Peristaltic pump filling machine is suitable for filling cosmetics emulsion, oil, water, perfume, and other liquids.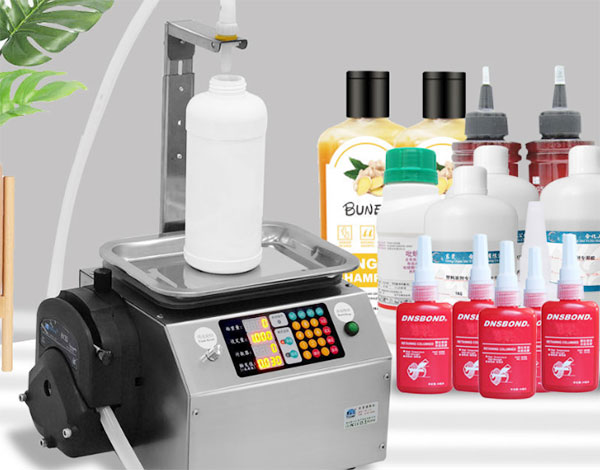 Small Scale Liquid Filling Machine Advantages
Simple operation and easy use;
Automatic frequency conversion, ultra-high precision;
There is a large difference in bottle weight, and the filling has no effect;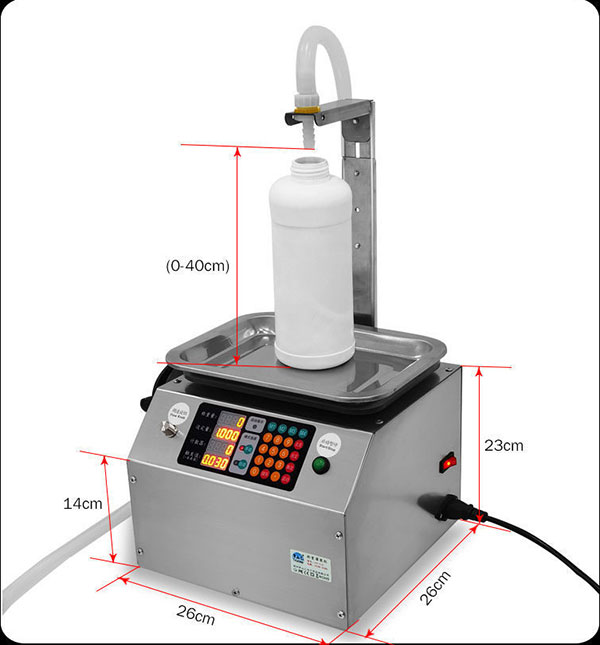 Paste Filling Machine Details
Sliding Hose Brackets
Anti-drip outlet, (0-32cm adjustable);
Large peristaltic pump
The liquid only passes through the tube;
Special pump tube
The pump tube for the peristaltic pump is 2 meters long;
Stainless steel body
The casing, bracket, and tray are all made of stainless steel;
Weighing
Using electronic scales with high precision and responsiveness as the measurement standard, its performance can surpass all time-quantitative methods;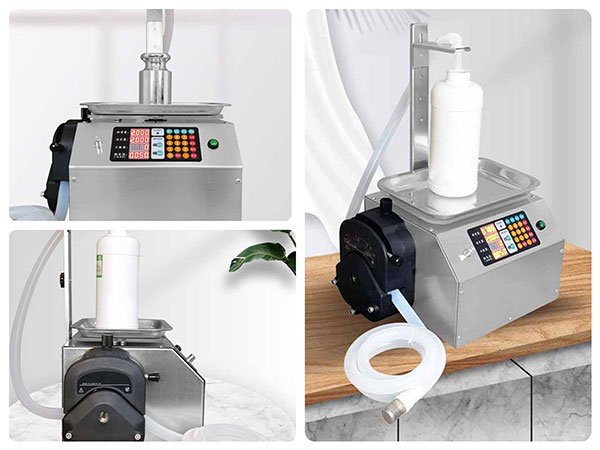 CSY-L13 Peristaltic Pump Filling Machine Parameter
| | |
| --- | --- |
| Model | CSY-L13 |
| Recommended filling | 0.02-5 kg |
| Maximum weighing | 8 kg |
| Division value | 2 g |
| Pump type | Peristaltic |
| Maximum flow rate | 8 L/min |
| Filling error | ≤2 g |
| Stand height | 0~40cm |
| Water pipe material | silicone tube |
| Water pipe specification | 9.6*16.6 mm |
| Water pipe length | 2 m |
| Host size | 26*26*23 cm |
| Packing size | 35*35*35cm |
| Package weight | 12.5 kg |
| Rated power | 150 W |
Peristaltic Pump Filling Machine Features
1. CSY-L13 Peristaltic pump filling machine Each model has an English version, with foreign plugs and English manuals;
2. Panel display: Weighing weight, setting amount, counter, trigger value, and flow rate value, using LED digital tube display;
3. Basic functions: Real-time weighing, overload alarm, automatic counting, automatic start, automatic speed reduction, automatic stop, data storage, flow rate adjustment, weight calibration, quantitative filling according to time, factory reset, and other functions;
4. Peristaltic pump: Pump water by squeezing the water pipe, that is, the roller squeezes the hose from the outside of the hose to squeeze the liquid out, and the liquid only passes through the water pipe. Clean and pollution-free, easy to change tubes, easy to clean;
CSY-L13 peristaltic pump filling machine is excellent filling equipment with high precision, adjustability, and easy operation. Its excellent performance and wide range of applications prove its value and significance in industrial production. With the continuous development of science and technology and the continuous increase of demand, it is believed that the CSY-L13 peristaltic pump filling machine will continue to show greater potential and advantages in future development.