Description
The CSY-3200 small weighing liquid filling machine can achieve high precision and fast filling of liquor, soy milk, beverages, water, and other liquids with low viscosity and no impurities, with an error of ≤1g.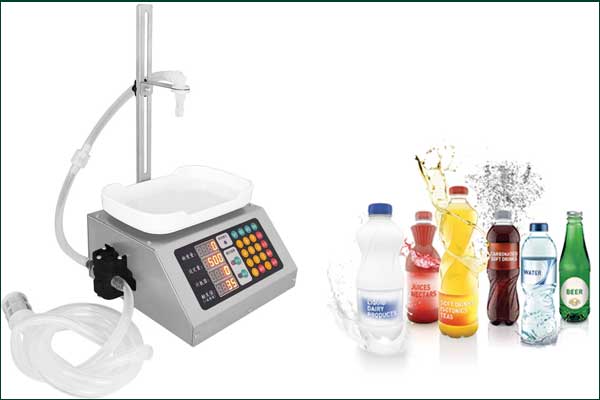 PS: The object that can be filled must be pure liquid, free of impurities and non-viscous, such as paste, high viscosity, and corrosive are not applicable.
CSY-3200 Small Liquid Filling Machine Features
1. Each model has an English version, with foreign plugs and English manuals.
2. Panel display: Weighing weight, setting amount, counter, trigger value, and flow rate value, using LED digital tube display.
3. Diaphragm pump: pumps water by the suction of the diaphragm in the pump chamber, similar to the principle of syringe pumping, the liquid will pass through the inside of the pump chamber.
4. CSY-3200 Diaphragm pump liquid filling machine basic functions: Real-time weighing, overload alarm, automatic counting, automatic start, automatic speed reduction, automatic stop, data storage, flow rate adjustment, weight calibration, quantitative filling according to time, factory reset, and other functions.
Here is the small liquid filling machine youtube video working process in our factory for your reference!!
CSY-3200 Diaphragm Pump Liquid Filling Machine Parameter
| | |
| --- | --- |
| Model | CSY-3200,CSY-1810 |
| Recommended filling | 8-1000g |
| Maximum weighing | 3 kg |
| Division value | 1 g |
| Pump type | Diaphragm pump |
| Maximum flow rate | 3.2L/min |
| Filling error | ≤1 g |
| Stand height | 0~32cm |
| Water pipe material | silicone tube |
| Water pipe specification | 7*10 mm |
| Water pipe length | 1.5+0.5 m |
| Host size | 18*18*12 cm |
| Packing size | 35*23*19cm |
| Package weight | 2.7 kg |
| Rated power | 30W |
Water Filling Machine Details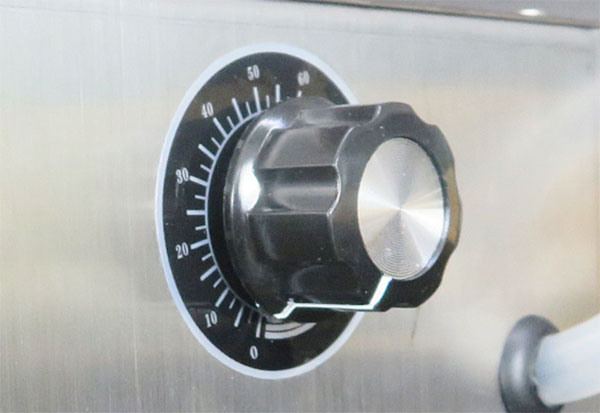 Flow adjustment knob
The viscosity of different liquids adjusts the size of the water flow;
Food-grade detachable and washable hose
Easy to replace and easy to clean, safe, durable, and high temperature resistant;
Thickened stainless steel
The body is made of 1.5MM thick stainless steel plate, which is stronger and more durable;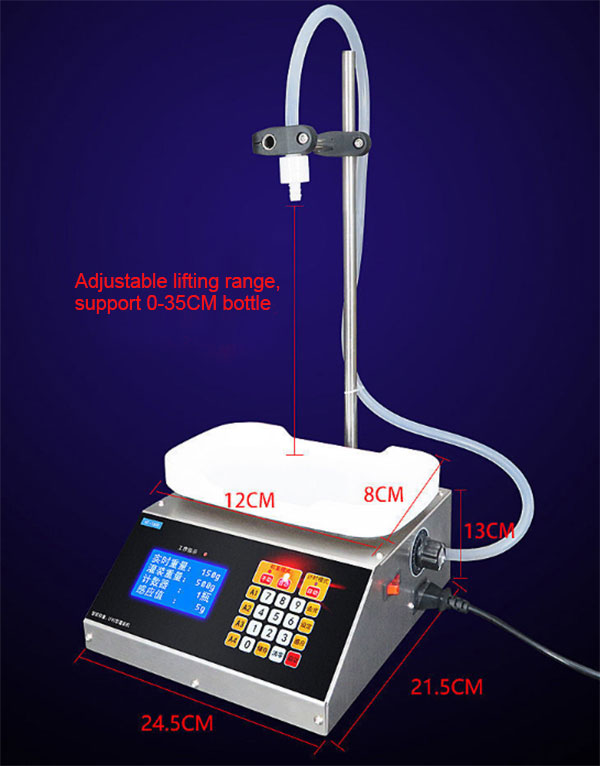 Adjustable lifting rod
The height of different filling containers can be adjusted to different heights of the lifting rod;
Strong Core Precise Control
The high-precision circuit board is matched with an intelligent CPU that can store 4 sets of data to realize automatic quantification;
Small Weight Liquid Filling Machine Operation Steps
01 Set weight
If filling 500 grams of liquid, just press the set button, input 500, and then press the set button to complete;
02 Enter automatic mode
Press the automatic key to enter the automatic operation mode;
03 Put the bottle
The machine will automatically peel, start filling automatically, reach the set weight, and stop automatically;