Description
The 18L lubricating oil barrel capping machine is a piece of equipment specially used to seal 18L lubricating oil barrels. Its design and functionality make it an integral part of industrial production. The main function of this machine is to install and seal the cap on the lubricating oil barrel to ensure the quality and safety of the lubricating oil. It is suitable for lubricating oil barrels and paint barrels. The working principle is through Stainless steel chain plate conveys, the barrel body is put on the barrel cover and passes through the upper unpowered roller to roll and press the cover.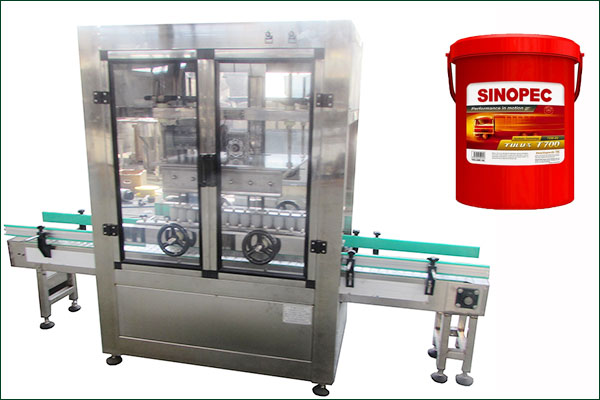 Lubricating Oil Drum Capping Machine Advantages
1. Capping speed is fast and easy to use;
2. Reasonable design, compact structure, fast capping speed, and strong reliability;
3. It has the characteristics of simple operation and setting, convenient maintenance, and so on;
4. It is an ideal equipment for automating the capping process in pharmaceutical, food, chemical, daily chemical and other industries;
Automatic Lubricating Oil Barrel Capping Machine Parameter
| | |
| --- | --- |
| Model | CDYGGT-Q1 |
| Filling Speed | 1200 bottles/hour |
| Power | 1.5 KW |
| Dimension(mm) | 1300*550*1600 |
| Adjustable Method | Stepless speed regulation |
| Height/Diameter of bottle | Customized |
Here is the lubricating oil barrel capping machine YouTube video working process in our factory for your reference!!
CDYGGT-Q1 Automatic Drum Press Capping Machine Features
First of all, the design of the 18L lubricating oil barrel capping machine is very sophisticated. It usually consists of a stable base, an adjustable capping head, and a control system. This design allows the machine to adapt to lubricant barrels of different sizes and shapes, thereby increasing its flexibility and applicability. In addition, the machine is equipped with an automatic feeding and positioning system to ensure that each lubricant barrel can be accurately installed with a cap, improving production efficiency.
Secondly, the 18L lubricating oil barrel capping machine is very powerful. It can install the cap quickly and accurately to ensure the sealing of the lubricant barrel. This is crucial for the storage and transportation of lubricating oil because poor sealing can lead to lubricating oil leakage and affect product quality and safety. Therefore, this kind of machine plays a vital role in industrial production.
In addition, the 18L lubricating oil barrel capping machine also has certain intelligent features. It is usually equipped with a PLC control system, which can realize automated production, reduce labor costs, and improve production efficiency. In addition, the machine also has an automatic fault diagnosis and alarm system, which can detect and solve problems in time to ensure the stability and continuity of production.
In general, the 18L lubricating oil barrel capping machine is a powerful, exquisitely designed, and highly intelligent equipment that plays an indispensable role in industrial production. Its emergence has greatly improved the efficiency and quality of lubricant production, bringing great convenience and benefits to industrial production. I believe that with the continuous development of technology, the performance and functions of this machine will continue to be improved, bringing more surprises and innovations to lubricant production.