Description
The semi-automatic filling machine is a quantitative liquid filling machine, suitable for filling various non-gas liquids such as antifreeze and glass water. The liquid filling machine has the features of beautiful appearance, high filling precision, convenient adjustment and easy operation. Quantitative filling machine is composed of feeding system, weighing system, frame, pneumatic control, control system, unpowered raceway, etc.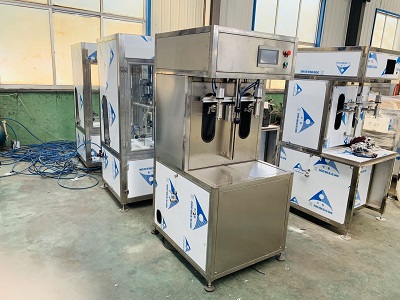 Semi-automatic Weight Filling Machine Advantages
High degree of automation
The operation is simple and the operation is stable, which can effectively save the cost of the enterprise and improve the production efficiency;
Stainless steel material
The stainless steel liquid of the whole structure is free from pollution, and other exposed parts are made of baking varnish, which is not easy to corrode.
Independent operating system
Each stand-alone machine can complete its work independently and has an independent operating system, which can help enterprises realize standardized production;
Technical parameters of CDCZ-B2 Semi-automatic 1-4L weighing filling machine
| | |
| --- | --- |
| Item# | CDCZ-B2 |
| Filling Range | 1-10L |
| Filling Speed | 200-300 Bottles/Hour |
| Filling accuracy | <0.5% |
| Power | 2.2KW |
| Adjustable Bottle Sizes | Customized |
| Dimension(mm) | 1000*1150*1800mm |
Feature of CDCZ-B2 Semi-automatic 1-4L weighing filling machine
1. The measurement range is large, and the measurement error is less than 5 grams per barrel.
2. The system adopts weighing type filling with high measuring accuracy and is not affected by materials.
3. The feeding valve composed of fast feeding and slow feeding can increase the filling speed and the filling accuracy.
4. CDCZ-B2 Semi-automatic 1-4L weighing filling machine the filling head adopts a vacuum suction and anti-drip device, and the filling material has no bubbles, and the effect is good.
This weight liquid filling machine is light and flexible, and can be used independently or in conjunction with capping machines, sealing machines, and conveyors. This series of filling machines is economical and practical, and its structure is simple and easy to operate. It is an ideal production equipment for small and medium-sized factories!!