Description
Filling method: ordinary conventional filling and lifting submerged filling (choose when ordering according to needs)
The end of the filling process adopts a frequency conversion deceleration system, which automatically decelerates when the quantitative value is close to prevent overflow and ensure accuracy.
CD-QZD Semi-automatic 18L weighting+capping adopt vacuum suction and anti-drip filling nozzle to prevent material from dripping
The weighing system consists of weighing brackets, sensors, a weighing platform equipped with unpowered rollers, frame support, and a filling system.
The weighing platform is not allowed to be subjected to additional external forces during use.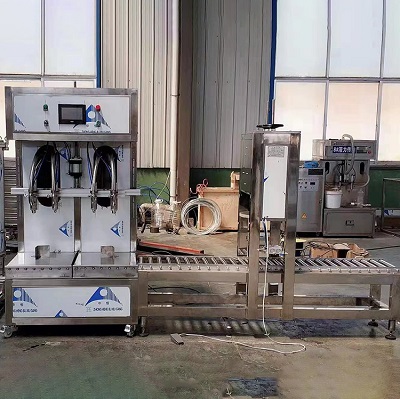 Feature of CD-QZD Semi-automatic 18L weighting+capping
1 The system adopts weighing type filling with high measuring accuracy and is not affected by materials.
2 The end adopts frequency conversion speed regulation, which is composed of fast and slow feeding valves, which can increase the filling speed and increase the filling accuracy.
3 The measurement range is large, and the measurement error is plus or minus 10 grams per barrel. (Calculated by 18L)
4 The filling head adopts a vacuum suction and anti-drip device, and the filling material has no bubbles, and the effect is good.
5. CD-QZD Semi-automatic 18L weighting+capping using world-renowned brands of electrical and pneumatic components, the failure rate is low, the performance is stable and reliable, and the service life is long.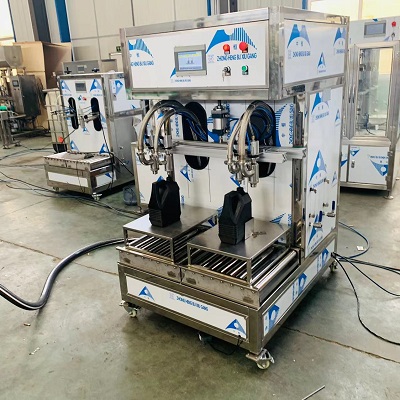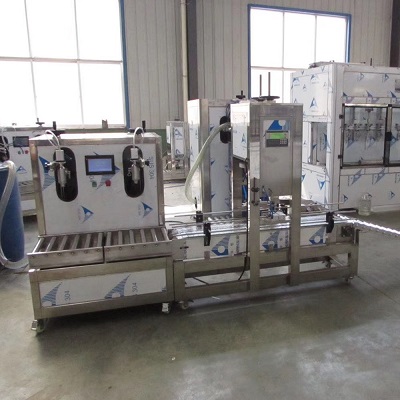 Technical parameters of CD-QZD Semi-automatic 18L weighting+capping
| | |
| --- | --- |
| Model | CD-QZD |
| Power | 2.2KW |
| Filling volume | 10-30KG |
| Number of filling heads | 2 heads |
| Production capacity | 80-120 barrels/hour (calculated as 20 liters) |
| Weight | 180KG |
| Filling accuracy | ≤0.5% |
| Dimensions | 900*700*1600 (length * width * height) |