Description
Net weight liquid filling machine uses net weight technology, which can accurately measure the weight of liquid and fill it according to the preset target weight. This machine is usually used for filling various types of liquids, such as water, juice, oil, chemicals, etc. The high-precision full electronic weight detection method is used for weighing and measuring, and the automatic quantitative filling and filling operation of barreled raw materials is controlled. In order to provide effective labor protection for operators, the system can be used in wet, dangerous, or other harsh environments.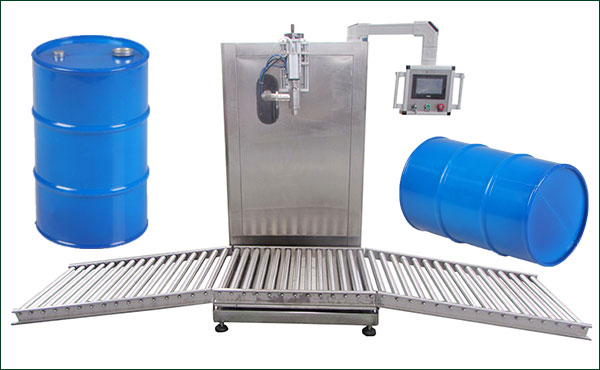 Net Weight Liquid Filling Machine Benefits
Fast-filling speed
stainless steel material
Accurate volume control
The material is not easy to leak
Weight Liquid Filling Machine Structure
Separate start/stop button for more convenient operation;
The automatic braking device of the weighing platform prevents the mouth of the barrel from touching the filling gun and affects the filling accuracy;
The double-slope type is suitable for places where the site is small or where there is no motorized forklift and the barrels need to be moved manually.
Here is the semi-automatic weight-filling machine youtube video working process in our factory for your reference!!
200L Liquid Net Weight Filling Machine Advantages
30 groups of recipes can be set and stored for calling;
It adopts a two-stage automatic filling method with high accuracy;
Net weight/gross weight two filling methods are free to choose from;
One-button filling, easy to operate, with manual operation mode;
Over-tolerance automatic alarm, automatic control of the feeding pump function;
Double windows can display filling volume, barrel number, cumulative volume, etc.;
When the filling head is not inserted into the barrel, it will be lifted automatically;
The system is manufactured by PLC programmable controller, which is safe and reliable;
When the filling target value is reached, the filling head will automatically rise;
Automatically distinguish the range of tare weight and the function of no filling without barrel;
The filling head and pipeline adopt quick connectors, which are easy to disassemble and wash;
The filling target volume can be set freely, which is convenient for various weight packaging;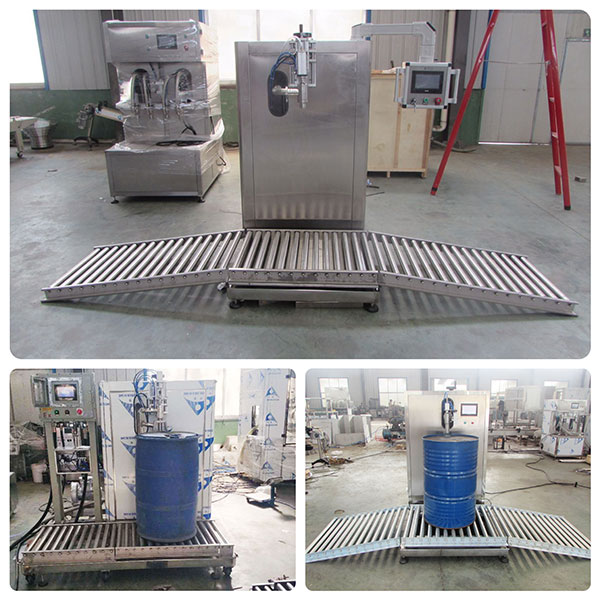 CD-BZD2 200L Weighing Filling Machine Parameter
| | |
| --- | --- |
| Filling capacity | 25-35 barrels/hour |
| Applicable bottle height | unlimited |
| Filling capacity | 100-250kg |
| Filling accuracy | ≤0.3% |
| Applicable bottle diameter | unlimited |
| Power source | 4KW |
| Weight | 180Kg |
| Dimensions | 3300*1300*1700 (length * width * height) |
CD-BZD2 Semi-Automatic 200l Weighing Filling Machine Features
1. The measurement range is large, and the measurement error is less than three thousandths.
2. The filling head adopts an anti-drip device, the filling material has no bubbles, and the effect is good.
3. The system adopts weighing type filling with high measuring accuracy and is not affected by materials.
4. The feeding valve composed of fast feeding and slow feeding can increase the filling speed and the filling accuracy.
A semi-automatic drum-weight liquid filling machine is an efficient and precise piece of equipment. Its semi-automatic operation mode and advanced weight-sensing technology make liquid filling easy and convenient. Whether it is improving product quality or meeting customer needs, this equipment can play an important role. Therefore, the semi-automatic barrel-weight liquid filling machine is one an indispensable piece of equipment for many enterprises.