Description
The fully automatic double-sided labeling machine is a multi-functional, high-speed, high-precision labeling machine. Suitable for various square bottles, round bottles, flat bottles, special-shaped bottles, three/four sides of square bottles, such as oil barrel labeling machine, cosmetics labeling machine, edible oil labeling machine, shampoo labeling machine and other single-side labeling.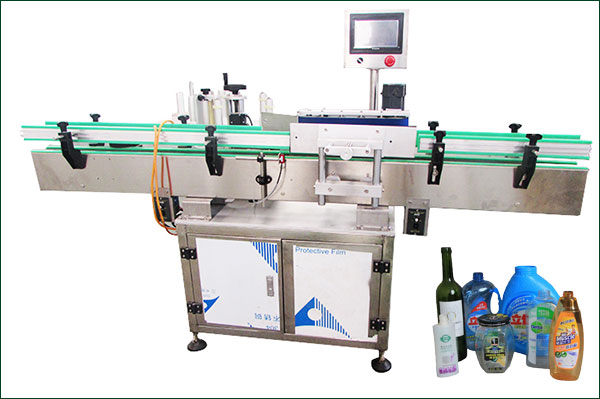 The sensor of the fully automatic labeling machine detects the passing of the product and transmits a signal back to the labeling control system. At the appropriate position, the control system controls the motor to send out the label and attach it to the position of the product to be labeled. The product flows through the labeling device and the label is covered. Attached to the product, the attaching action of a label is completed.
Automatic double sided labeling machine operation process: Place products (can be connected to the assembly line) -> Product separation -> Product guidance and top pressing -> Product top pressing and conveying -> Product inspection -> Labeling -> Label covering -> Collect labeled products.
Here is the double side automatic labeling machine youtube video working process in our factory for your reference!!
Double Sided Bottle Labeling Machine Application Scope:
*Applicable labels: self-adhesive labels, self-adhesive films, electronic supervision codes, barcodes, etc.;
*Application examples: Labeling of flat shampoo bottles, labeling of flat lubricant bottles, labeling of round shampoo bottles, etc.;
*Applicable products: Products that require labels to be attached to the side plane, large arc surface of the side, and circumferential surface;
*Application industries: widely used in cosmetics, daily chemicals, electronics, medicine, hardware, plastics and other industries;

Double Side Automatic Labeling Machine Parameter
| | |
| --- | --- |
| Model | GC-600 |
| Voltage | 110v/220v 50-60HZ |
| Hight label object | 30-350 mm |
| Thickly label object | 20-120 mm |
| Label hight | 15-200 mm |
| Label length | 25-300 mm |
| Pastes the sign precision | ±1mm(Except for the error of the label and the label itself) |
| Roll inside diameter | 76 mm |
| Roll outside diameter | 150 mm |
| Printer with air | 5kg/cm² |
| Output speed | 60-350 pcs/min (size and length of the label depends on the specific circumstances) |
| Size | L2800*W1650*H1500 |
| Weight | 450 kg |
Automatic Bottle Labeling Machine Advantages
1. Accurate labeling;
2. Automatic extraction material;
3. High labeling speed and efficiency;
4. Automatic double-sided labeling machine easy to operate and convenient;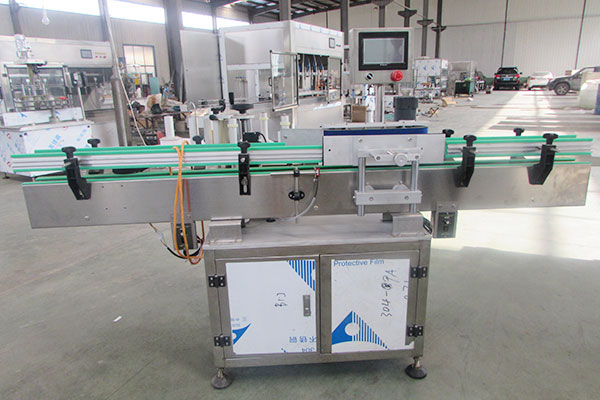 Bottle Labeling Machine Features
Equipped with a spring-type top-pressing mechanism to ensure smooth product delivery and effectively eliminate the inherent error in bottle height;
Powerful, one machine can realize single-sided and double-sided labeling of 4 types of products (round bottles, flat bottles, square bottles, special-shaped bottles);
Equipped with an automatic bottle separation mechanism, the distance is automatically separated before bottle guidance to ensure the stability of subsequent bottle guidance, transportation and labeling;
Equipped with two double labeling mechanisms to ensure labeling accuracy for the first time, and second extrusion labeling to effectively eliminate air bubbles and ensure that the head and tail of the label are tightly attached;
It adopts double-sided rigid plastic synchronous guide chains to automatically ensure the neutralization of bottles. It has low requirements for workers to place bottles and for assembly line docking to enter bottles, which greatly reduces the difficulty of worker operations or assembly line docking;
The automatic double-sided labeling machine is a very useful equipment that can improve production efficiency and reduce labor costs. Its advanced features and flexibility make it suitable for a variety of industries and application scenarios. Whether it is large-scale or small-scale production, this kind of machine can bring huge benefits to the enterprise.