Description
The manual paste / liquid filling machine adopts a piston structure, which can carry out 2-50ml quantitative filling of liquid, paste and other materials. This manual liquid filling machine is mainly suitable for filling and filling products in food, daily chemical, pesticide, medicine and special industries. At the same time, the rotary valve used in this equipment is made of wear-resistant, acid-resistant, high-temperature-resistant PTFE material, and it cannot be knocked or collided at will during cleaning.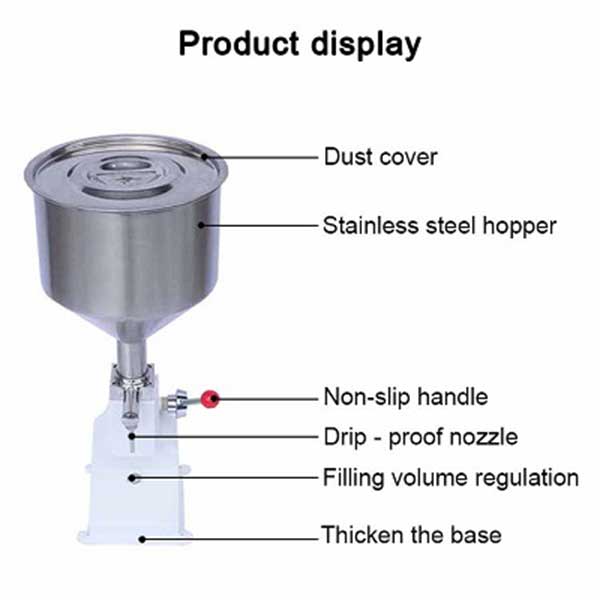 Wide range of applications
It is suitable for the packaging of various beverages, sauces, medicines, soy sauce, vinegar, fruit juices, skin care products such as essences, essential oils, perfumes and other small-dose ointment liquid products!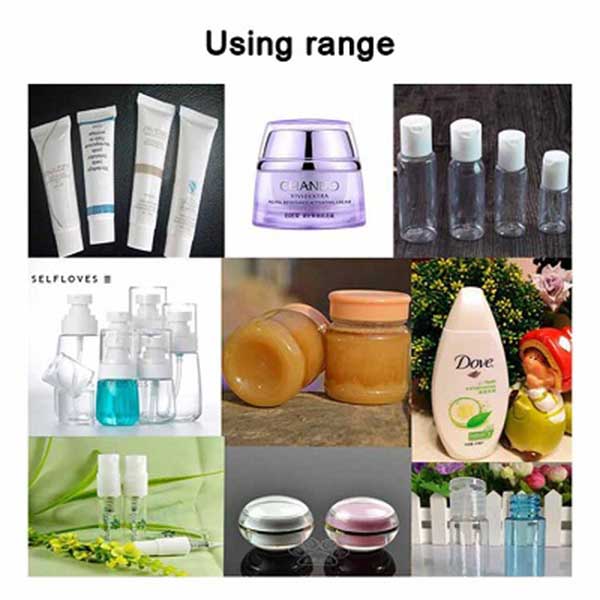 A03 Manual Filling Machine Feature
1. 10L Large capacity hopper and the material is Food Grade 304 Stainless Steel.
2. Two sizes of nozzles can be replaced. Its nozzle is 4mm and 8mm.
3. The filling range is 5-50ml,which can also customized to 10-100ml.
4. This A03 Manual filling machine can fill paste, cream, and liquid, as long as with fluidity.
Here is the small liquid filling machine youtube video for your reference!!
Manual Filling Machine A03 Technical Parameters
| | |
| --- | --- |
| Model: | A03 |
| Working Method: | Hand Pressure |
| Working Speed: | 20-30cans/min |
| Filling Range: | 5-50ml,10-100ml |
| Filling Nozzle Diameter: | ≥4mm |
| Filling Accuracy: | ±2% |
| Hopper Volume: | 10L |
| Packing Size: | 34*34*78cm |
| Gross Weight | 13kg |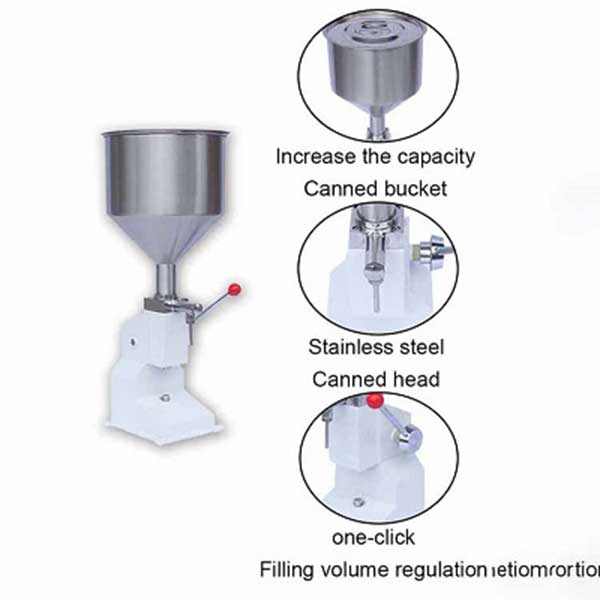 Small Scale Liquid Filling Machine Advantages
Portable unloading handle
Manual control is free and easy to operate;
Stable chassis
Thickened and heavier forged, stronger support;
Stainless steel funnel
Made of stainless steel, it will not corrode or rust for a long time;
Steel outlet
Made of fine steel, stable and durable, accurate filling and long life;